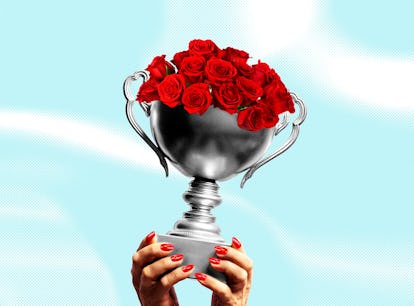 On The Bachelor, Does Competition Make The Heart Grow Fonder?
"Am I falling in love with him? Do I want to just be here another week?"
Lindsay Hattrick/Elite Daily; Stocksy; Getty Images; Shutterstock
Picture this: You're staying in a house with no air conditioning and approximately 30 beautiful people you just met. They all want the same thing as you: to end up with a new fiancé. You're sleep-deprived and hungry, and you've had a couple of drinks. You can't call your friends or family, turn on the TV, or read a book. To top it off, the person of your dreams (or the producers' dreams) is currently flirting with someone else.
This environment is not exactly a dream scenario for meeting your soulmate, yet it's a structure The Bachelor has relied on since its inception. Bachelor fans see it time and time again: contestants crying in interviews, "stealing" the lead for one more 10-minute conversation, and confessing their feelings within a matter of days. It might seem ridiculous to watch — how could they possibly feel this much toward someone they just met? — but this quick and intense emotional investment is by design. "The pressure cooker that these contestants are in — the cameras, producers, and awkward situations — those feed into the stress of the competition," Joshua Klapow, Ph.D., clinical psychologist and behavioral scientist, explains. The result is "emotional overdrive," and those who have gone through it agree.
"Everyone's emotions were so heightened," Tammy Kay Ly, a contestant from Peter Weber's season of The Bachelor in 2020, tells Elite Daily. "We're sleep-deprived, food-deprived most of the time. And we're dealing with so many emotions and different energies in one room."
Per experts, that tense environment and fierce competition can heighten romantic feelings, especially as the structure of the show establishes one person — the Bachelor or Bachelorette — as a prize to be won. This formula might make for an entertaining TV show, but it doesn't necessarily set up a couple for long-term success — and the show's format may be partially to blame.
The Show Sets Up The Lead As The Trophy
Typically, dating involves two people getting to know each other, each of them slowly deciding if the other is worth spending more time with. The format of The Bachelor shifts that: The show has already decided the lead is worth pursuing, and now it's up to the contestants to prove their merit.
Week after week, the show forces contestants to compete in what amounts to vulnerability Olympics, in an effort to show that they are best suited to marry the lead. Most recently, on Episode 7 of Zach Shallcross' Bachelor season, a dubiously-qualified mentalist (aka mindreader) prompted the women to reveal their deepest relationship insecurities, while Shallcross sat stoically across from them. From Charity Lawson tearing up over her ex's infidelity to Ariel Frenkel confessing her fear of being heartbroken, the contestants bared it all for Shallcross' benefit.
"All of a sudden, a few of these women had to forcibly open up about things in their life that might be traumatic," Jess Ambrose, co-host of reality TV and pop culture podcast Your Mom & Dad, tells Elite Daily about this moment. "Then, these women are questioning whether or not he'll still like them after hearing these things. Meanwhile, I'm sitting there going, 'This is an amazing group of women. Do they like him?'" But in the Bachelor world, that kind of questioning rarely, if ever, comes to the forefront.
Instead, contestants are expected to believe the lead is the ultimate catch — and their success on the show relies on that thinking. Recalling her time on The Bachelor, Ly says, "I'm seeing there are 29 other women with the same goal. I think it may have made me like him more because I thought, 'Oh, this is the prize. This is the end goal.'" According to her, it's a perspective the show encourages, even if it's not explicitly communicated.
It's a different structure from Bachelor in Paradise, which builds its drama off of contestants having options (and not-so-coincidentally, has a much higher success rate). There are 15 Paradise success stories, compared to four from The Bachelor and four from The Bachelorette. Mykenna Dorn, another contestant from Weber's season, explains, "On the Bachelor, there's literally one option. He's all you think about, and you only see him for a couple minutes every other day. Even though your conversations are so dry, you're like, 'This could be my husband.'" She compares it to BIP: "I wasn't on Paradise for long, but I think if I had the opportunity to be there longer, my energy would shift because there are different options."
High-Stakes Competition Can Make You Fall Harder
As the season progresses, contestants fall in love with the lead, to the point where they're ready to say yes to an engagement. This makes it all the more painful when the final few are sent home. Rachel Lindsay, who competed on Nick Viall's season of The Bachelor before becoming the Bachelorette, explained her heartbreak after being eliminated during Fantasy Suite week. "I 100% would've said yes [to a proposal] back then. That was the mind-state that I was in," she told E! in 2017, only a few months after the show wrapped.
Two years later, however, she spoke with Viall directly about their time together — and how she knew she wouldn't be his final pick. "We never had a ring conversation. We never talked about the future," she recalled. Even before she was eliminated, she knew what was coming. "I remember. I was like, 'It's not me.'"
That might sound contradictory — could you really be ready to say yes to someone, while also knowing you hadn't discussed the future and were likely to be sent home? — but it's the type of emotional jigsaw the show relies on. And according to Bachelor commentators, it's impossible to extricate those convoluted emotions from the competitive atmosphere. "As you're forced to go into a game of attrition against [around] 30 other players, the value of winning and ending up in that relationship escalates," Chad Kultgen, co-host of the Game of Roses podcast and co-author of How to Win the Bachelor, tells Elite Daily.
That doesn't mean every contestant goes into the show with strategy in mind. Rather, Ambrose thinks the show's design provokes those competitive feelings. "The show can really pull at people's insecurities," she says. "When you're in that environment, I think it's almost impossible to not start feeling like, 'I need to be a front-runner. I need this person to like me. I need to win.'"
Gabi Elnecki, one of Shallcross' finalists, expressed a similar vulnerability on the show. Speaking to Shallcross during Fantasy Suite week, Elnecki explained her fear of being "chosen second," especially after being cheated on in a previous relationship. Though Shallcross reassured her that their connection was "special," he later called her name second at the rose ceremony.
On the flip side, when a contestant feels chosen and prioritized, it evokes a dopamine response in the brain. "Feeling joy, satisfaction, elation, and fulfillment can come from both winning and being in love," Klapow says. "The problem is discerning what we feel love for — the win or the person."
Gabrielle Morse, LMHC and psychotherapist, agrees. "The gamification of love and the competition creates a strong dopamine response," she says. "When the contestants are chosen, there is an elation." Elation can feel a lot like love, but once it fades, what's left?
What Happens To Those Feelings After The Show Wraps?
Once the cameras stop rolling, the situation can get even more complicated. Overnight, the lead has to make the transition from valued prize to equal partner — and based on the show's track record, that doesn't usually end well. "People feel all these heightened emotions that disappear when the competition ends," Ambrose says. "And then you're left with, 'Do I really like this person?' or more importantly, 'Do I know this person?'"
Susie Evans, the last woman standing on Clayton Echard's season of The Bachelor in 2022, felt similarly post-show. On The Viall Files podcast, Evans explained how she felt once she and Echard exited the Bachelor bubble. "You really don't know if you're compatible until you get out of there," she recalled. "I remember looking back and being like, 'You are way more compatible with Rachel [Recchia].' I remember thinking — I was like, 'Why did you pick me?'" Her experience isn't unique. Weber and his final choice, Madi Prewett, also ended things post-show after realizing their "values and beliefs" weren't aligned.
There are, of course, exceptions to this pattern, but even happily engaged Bachelor couples face an uphill battle. "When the cameras go away, and life returns to a less intense pace, it is as if the contestants go from their altered selves to their authentic selves," Klapow explains. "That's not to say they are faking it on camera, but the show creates a different version of these individuals that goes away to some degree when it's no longer in production." Without the competition driving their relationship forward, the couple is left to figure out if if they truly want the prize they fought so hard to win — and often, after a few months, they concede the game entirely.
Experts:
Joshua Klapow, Ph.D., clinical psychologist and the Instagram account Mental Drive
Tammy Kay Ly, former Bachelor and Bachelor in Paradise contestant
Jess Ambrose, co-host of Your Dad & Mom podcast
Mykenna Dorn, former Bachelor and Bachelor in Paradise contestant
Chad Kultgen, co-host of the Game of Roses podcast and co-author of How to Win the Bachelor
Gabrielle Morse, LMHC and psychotherapist