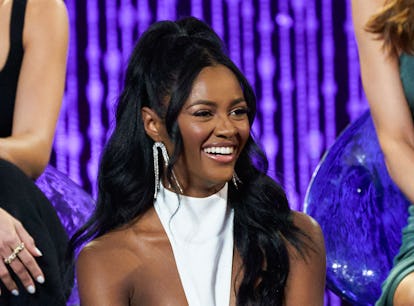 Charity Lawson's Zodiac Sign Will Make Her A Legendary Bachelorette
ABC
Bachelor Nation is celebrating now that Charity Lawson has been announced as the next Bachelorette. The fan-favorite was in Zach Shallcross' final four, but was sent home after hometowns on March 12. Thankfully, she isn't going anywhere. As the next Bachelorette, Lawson will have the opportunity to lead her own season, which will air over the summer of 2023. Ahead of her role as leading lady, let's take a closer look at Lawson's zodiac sign and how it might affect her run on the show.
Born on Dec. 30, 1995, Lawson is a Capricorn through and through. This Earth sign is known for valuing stability and building strong connections, but they're picky about who they let in. "Capricorn energy is real and honest — it's just not an open kind of honesty that everyone gets a ticket to," astrologer Jasmine Wolfe told Bustle. "Capricorns wear a hard shell to protect themselves from the world, which is why they often get erroneously pegged as boring and cold. However, when you get past the walls of a Capricorn, you get to see just how tender and goofy they are." TL;DR: There's plenty to look forward to for Lawson's Bachelorette season.
Here's everything to know about Lawson's zodiac sign and how it will impact her new role.
Capricorns Are Goal-Oriented And Ambitious
When Lawson was announced as the Bachelorette during the "Women Tell All" episode on March 14, she was super excited — and she made it crystal clear that she had one goal in mind for her season. "I've waited forever to find the love of my life," Lawson told host Jesse Palmer. "It blows my mind that I could meet my person and be engaged and literally have my happily ever after."
Expect Lawson to approach her season with a no-nonsense attitude that echoes how seriously she takes this new role.
This Sign Becomes Open And Vulnerable If You Build Trust
Capricorns aren't quick to fall in love or give their partner their all. They like to gradually build relationships, but once they're sure they can count on you, expect serious intimacy. Lawson started showing this vulnerable side during her time on The Bachelor.
"The relationship prior to being here was … it was an emotionally abusive relationship for me," she told Shallcross during a one-on-one date. "I never honestly felt what it feels like to be seen as a partner or to be seen as a girlfriend."
Once They're All-In, They're Committed Partners
Capricorns are as level-headed as can be, so when they commit to something, know they've weighed all the pros and cons. In other words, Lawson doesn't take any decision lightly — so prepare for some seriously deep conversations while she's the lead.
That said, she seems to see the positive in every situation. Even when Shallcross broke up with her, she kept an optimistic attitude. "I took a big risk, obviously, coming here and putting my heart out on the line," she told him. "I knew that this experience was going to be something incredible. It's bittersweet for sure."
Here's hoping that Lawson's Capricorn energy leads her to a less bittersweet ending this time around.