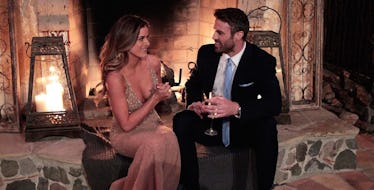 JoJo Reveals How She Really Felt About Chad Johnson On 'The Bachelorette'
ABC
JoJo Fletcher's season of "The Bachelorette" may be the most dramatic yet. That's all thanks to Chad Johnson, of course.
The 28-year-old real estate agent from Tulsa, Oklahoma made quite the impression. Not only did he try to beat up every other guy, he had the funniest one-liners and most uncomfortable encounters with JoJo.
Yeah, it was hard to watch.
But now, JoJo is speaking out about her real feelings toward Chad Johnson. What made her really want to send him home halfway through the season? Did she ever really think they could work?
JoJo told PEOPLE magazine,
Chad Johnson was one of my top guys, but I started hearing about drama. The guys assumed Chad couldn't hide that much crazy, but I really had no idea what was going on.
Yeah, that's for sure. She continued,
When I finally saw, it blew me away. Watching Chad is like one of those things where you want to look away from something but you can't. The guys were much happier when he was gone.
Took you long enough! The other guys literally had a funeral for him and spread his ashes with protein powder.
But JoJo knew the two weren't meant to be. She explained,
He wasn't meant to be my husband. But I wish him the best of luck. I'm going to let Chad do Chad!
Chad seems to be doing all right after "The Bachelorette." He's actually going to star on the upcoming season of "Bachelor in Paradise," so you know things will get interesting.
Keep doing you, Chad. Now BRB, gonna go make a protein shake.
Citations: The Bachelorette Jojo Talks About Chad (PEOPLE)