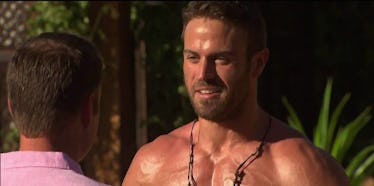 The Creator Of 'The Bachelor' Just Gave Us Huge News About Chad Johnson
ABC
If you're a fan of "The Bachelorette" and "The Bachelor," I suggest you listen up.
You didn't even have to watch Jojo Fletcher's season to know Chad Johnson is one of a kind.
The 28-year-old real estate agent from Tulsa, Oklahoma has been making headlines since coming onto the show. Chad was arguably one of the most dramatic and intense contestants of all time.
I mean, a security guard even had to watch him sleep, for Christ's sake. The guy was serious trouble.
In the end, as much as I loved to hate on Chad, I actually missed him once he was sent home. It was a real treat getting to watch him eat everything in sight and talk about protein like it was his job.
The guy also made me laugh, so he'll forever have a special place in my heart.
Now, here's where things get interesting. Mike Fleiss, the creator of the reality TV drama, just made a huge announcement on Twitter.
Fleiss wrote to his followers he thinks Chad should have his own spinoff from "The Bachelor."
He obviously noticed how much attention the contestant received, so now he's giving the people what they truly want. MORE CHAD!
Don't get too excited, though. Fleiss shortly clarified he meant Chad deserves to have his own show, not that he should be the next "Bachelor." That still sounds like good news to me!
You heard it from the man himself. Chad Johnson MAY POSSIBLY be getting a new show and we couldn't be happier.
He's already stirring up drama on "The Bachelor in Paradise" season three, so hopefully we'll get to see more of his angry little face after that.
Love you, Chad. And yes, milk is delicious.
Citations: Chad Johnson spinoff of "The Bachelor" (Us Magazine)