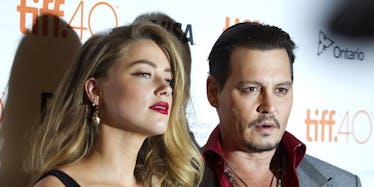 Johnny Depp Changed His Amber Heard Tattoo And We Need To Talk About It
REUTERS
Remember, everyone, tattoos are basically permanent. So, when you're thinking about getting a tattoo to honor this or that band or a significant other of some kind, remember that tattoo will always be there no matter what happens to you.
Johnny Depp is the latest person to forget this rule.
Apparently, the "Pirates of the Caribbean" actor had two of his tattoos altered. The two tattoos revolved around, you guessed it, his wife Amber Heard, who is accusing Depp of domestic abuse. The two are now separated, and Heard is seeking a divorce.
It's been a pretty ugly dispute with both sides being accused of lying and fabricating, so it seems understandable that Depp would want to get rid of his tattoos.
BUT, in case you forgot about the tattoo rule, Depp can't get rid of them; he can only alter them.
So, according to TMZ, Depp altered his two Amber Heard tattoos. It seems the 53-year-old actor inked out a long tattoo of Heard on his arm to cover her up, and he also changed a tattoo on his knuckles.
According to Daily Mail, the alteration to the tattoo on Depp's hand can be seen in this video, a public service announcement Johnny Depp recently made.
If you don't know what the tattoo on Depp's right knuckles says, it appears to say "SCUM," starting with the letter "S" on Depp's right-hand, pinky-finger knuckle.
But, the tattoo used to say "SLIM," one of Amber Heard's nicknames.
I don't know what actually happened between Depp and Heard, but if the tattoo now says what it looks like it says, I'd say it's obvious Depp hasn't been handling the separation and divorce proceedings well.
Citations: JOHNNY DEPP AMBER'S SCUM TO ME NOW (TMZ), A tat-too far? Johnny Depp 'tweaks Amber Heard nickname inking on his knuckles to read SCUM' as bitter divorce rages on (Daily Mail)