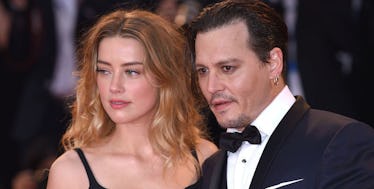 Amber Heard Is Accusing Johnny Depp Of Domestic Abuse And There's A Photo
REX/Shutterstock
UPDATE 4:14 pm EST: Amber Heard was granted a temporary restraining order against Johnny Depp until another hearing is held, a legal spokesperson told Variety.  The official hearing will be held June 17.
Yikes. Johnny Depp has been accused of domestic violence by Amber Heard, and she is taking it to court, according to a report from TMZ.
The 30-year-old actress reportedly went to court with her lawyer Samantha Spector, with bruises on her face. Johnny Depp allegedly physically assaulted Amber with a phone.
TMZ reports Amber said Depp smashed an iPhone on her face on Saturday night, and the above picture was taken after he hit her. Amber also allegedly said Depp offered her money to stay quiet.
Currently, the actor is trying to promote his upcoming film, "Alice Through the Looking Glass." How this news will affect the film's opening this weekend remains to be seen.
This is all coming just two days after Amber Heard filed for divorce from Johnny Depp. It also comes five days after Depp, who is 52, lost his mother.
Obviously, if this is true, Amber needs to get out of that situation as soon as she can. All the best to her in court.
Citations: AMBER HEARD CLAIMS DOMESTIC VIOLENCE Seeks Restraining Order Against Johnny Depp (TMZ)