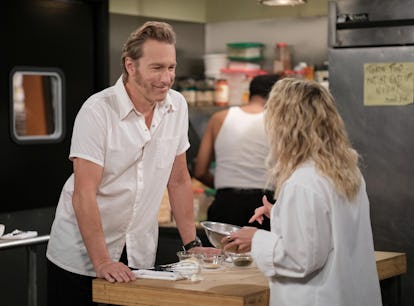 How I Met Your Father Has Randomly Become A Sex & The City Bizarro World
Never thought Samantha would be dating Aidan.
Hulu
And Just Like That isn't the only show bringing some Sex and the City magic into the 2020s. Strangely enough, Hulu's How I Met Your Father has become a home for the most famous SATC stars who didn't appear in the first season of And Just Like That. Although the How I Met Your Mother sequel series isn't part of the SATC universe at all, John Corbett's Season 2 role in relation to Kim Cattrall's character is a totally unexpected treat for Sex and the City fans.
Spoiler alert: This post contains spoilers from How I Met Your Father Season 2, Episode 9. Halfway through its second season, How I Met Your Father introduced Corbett as the charming chef Robert, who instantly hits it off with Hilary Duff's Sophie. There are a few reasons why this new relationship is so interesting. For one, there's already some reason to believe Robert may actually be revealed to be Sophie's father in a future episode, which definitely would make their dating arc very cringe-worthy. But zooming out from the world of the show, the storyline also marks an onscreen reunion for Corbett and Duff, who co-starred in the 2004 musical drama Raise Your Voice.
Even more bizarre, Corbett's arrival creates an unexpected new relationship in the Sex and the City universe, since Kim Cattrall plays the older version of Sophie in HIMYF. Yep, the means Aidan Shaw is dating Samantha Jones in this twisted HIMYF world... and he may also be her dad?
Though Corbett and Cattrall likely won't share any scenes in HIMYF since their characters are separated by a 30-year time jump, it's still nice for SATC superfans to see them on a show together two decades after the iconic HBO series ended. Notably, neither Corbett nor Cattrall appeared in the first season of HBO Max's SATC reboot And Just Like That. Cattrall has made it clear she doesn't plan to play Samantha ever again, but Corbett actually will be bringing Aidan back to life in And Just Like That Season 2.
Until then, fans can enjoy Corbett's new romantic lead in Season 2 of How I Met Your Father, which releases new episodes Tuesdays on Hulu.