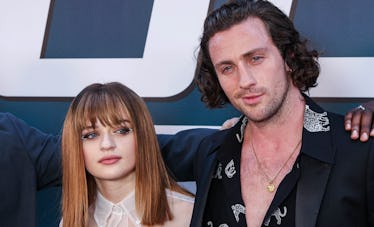 Let's Investigate Those Joey King & Aaron Taylor-Johnson Cheating Rumors
The internet is here for the goss, but is it even true?
Stephane Cardinale - Corbis/Corbis Entertainment/Getty Images
The latest celebrity scandal that the internet can't get enough of all revolves around Aaron Taylor-Johnson and Joey King. After a rumor that the two hooked up exploded on TikTok, their names have been trending nonstop. Surprisingly, it seems that most fans are actually supportive of the idea of the two actors cheating on their respective partners, but that doesn't make the rumor any more true. Let's investigate how an unsubstantiated claim about Aaron Taylor-Johnson and Joey King blew up into the alleged cheating scandal that fans can't stop talking about.
The whole drama began with a TikTok posted on Jan. 17. In the now-viral video, user @thekylemarisa reads out a blind item about a "married A-list actor" hooking up with an "A-list tween actress turned A-/B+ list adult actress" during the press trip for their recent movie. Apparently, the blind item was linked to an article about Joey King's outfit at a press event for Bullet Train in Paris on July 16, 2022.
It didn't take long for the internet to run with this rumor, despite the fact that blind items are notoriously inaccurate and there is absolutely no real proof to go on. The reason for the immediate fervor? Taylor-Johnson's relationship with his wife, Sam Taylor-Johnson, has long been a controversial topic online. Because the pair met in 2009 on the set of Sam's movie Nowhere Boy when Aaron was 18 and Sam was 42, many people have voiced their discomfort with the notable age difference, especially considering Aaron's young age when they started dating.
So, rather than criticizing the potential cheating, most social media users actually celebrated the idea... which probably only made the unconfirmed gossip go even more viral.
Although the internet seems to have already latched on to the cheating rumors, there are more reasons to take them with a grain of salt rather than fully buying into them. For one, Aaron's wife, Sam, accompanied him to the Paris Bullet Train preview where the hookup allegedly happened, and the two looked as loved-up as ever on the red carpet together.
Plus, King herself is also taken. She announced her engagement to producer Steven Piet in early 2022. Although Piet wasn't at the Paris event with King, he reunited with her just a couple weeks later for Bullet Train's Los Angeles premiere and the fiancés shared some smooches on the red carpet.
And both actors have shared lovey-dovey pics with their respective partners since then. Taylor-Johnson shared a romantic moment with Sam to his IG in December, and King shared adorable holiday pics with Piet on Dec. 25. Based on the info, it sounds like those cheating rumors are just unsubstantiated claims propelled by some wishful thinking from fans.