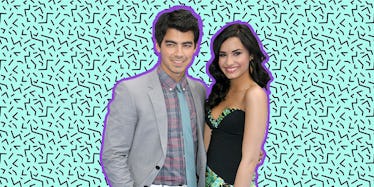 Joe Jonas Opens Up About His Current Relationship With Ex Demi Lovato
REX/Shutterstock
Don't worry, Joe Jonas is totally on good terms with Demi Lovato after their breakup.
I mean, that breakup was, like, six years ago, but still. They are on really good terms.
The two first got to know each other on the set of the 2008 Disney Channel Original Movie, "Camp Rock." Then, they dated for a few months in 2010.
Now, six years later, Demi and Joe are friends and closer than ever, according to a brief interview with the former Jonas Brother from E! News.
Joe said,
She's family. We've known Demi for so many years. We're performed with her, toured with her. She's just incredible. It's not always the case. Sometimes you have to know when to fold the cards. I don't think of her as an ex. We're really good friends. We've gone through so much together and we're really close now.
Awww!
Obviously, Demi has been getting pretty close to the Jonas family now that she and her BFF Nick Jonas are on tour together.
But she's also been getting very friendly with Joe lately, including some flirty comments on his particularly flattering Instagram photos.
And Joe, on his part, has been amping up the shirtless pics on social media. Perhaps he's hoping for that like from a certain former Disney star?
*Cough* Get back together. *Cough*
Who said that?
Citations: Joe Jonas on Ex-Girlfriend Demi Lovato: "She's Family" (E! News)