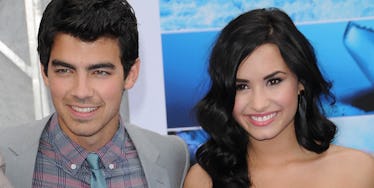 Demi Lovato And Joe Jonas Are Flirting On Instagram And We Can't Handle It
Shutterstock
Um, excuse me, Demi Lovato and Joe Jonas, but what the heck is going on with this blatant flirting on Instagram right now?!
Is this? Is this happening? You guys in love? Having babies? Becoming the modern day von Trapp family?
It's been a long time since these two crazy kids dated — I'm talking, like, Disney Channel days — but maybe this love isn't dead after all.
Over the weekend, Joe posted a picture of himself looking, I'll say it, pretty damn good. I mean, c'mon. Those arms.
Demi apparently thought so, too. Look at her comment on the photo.
Demi commented,
Excuse me sir, can you show me where the gun show is?
UM, EXCUSE ME, DEMI, BUT CAN YOU SHOW ME WHERE MY EMOTIONS ARE? BECAUSE YOU ARE FULL-ON TOYING WITH THEM!
And that's not all! This is how Joe responded.
YEP, HE SENT HER WINKY TONGUE FACE EMOJIS!
Sooooo... y'all banging, yes or yes?
I mean Demi did break up with her boyfriend of six years, Wilmer Valderrama, just last month.
So I'm feeling a definite yes. JEMI LIVES!
Citations: What Demi Lovato Posted on This Pic of Joe Jonas Has Jemi Shippers Losing Their Minds (Cosmopolitan)