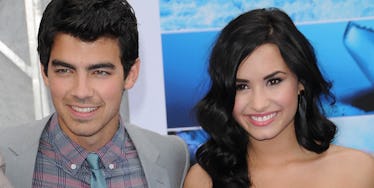 Joe And Demi Prove Growing Up Together Makes For A Good Relationship
Shutterstock
In the midst of the fall of Tayvin, the Gaga and Kinney breakup and all of the Rob Kardashian/Blac Chyna drama, this celebrity love news was just the pick-me-up I needed.
Joe Jonas talked about his relationship with ex Demi Lovato (both past and present, romantic and platonic) and only had good things to say about her. He considers Lovato "family" because though they only dated briefly, they've known each other for so long and have respect for one another.
The two dated while on the set of "Camp Rock" together (UGH, I miss those days) but they broke up in 2010. When they broke up, Jonas issued a statement saying: "I will continue to be her friend and be there for her."
I can only guess Jonas fell for Lovato because of her strong sense of self. He said,
She's the best version of herself I've ever known. She's amazing at speaking truth to what she believes. I wish I could have a bit more of that. Excuse my language, but she doesn't give a fuck. She goes out there and says, "This is who I am."
It's safe to say Jonas and Lovato are able to maintain such a loving relationship even still because they grew up together and I personally can attest to the power of growing up together.
There's a friend of my cousin who I've known for at least a decade and low-key I feel like one day we might end up together because there's a ton of chemistry and physical attraction, but we also just know everything about each other (OK, fine, we've never actually gone on a date or done anything, but that's just because we respect each other just like Jonas and Lovato and don't want to jump into anything too quickly).
When you grow up together, you know each other's likes and dislikes, natural habits and mannerisms and, finally -- and importantly -- the element of trust has already been established between you two. And without trust, you can't have a functional relationship, no matter how much you like each other. Trust me. I learned that the hard way.
Who knows? Maybe our "Camp Rock" faves will get back together one day. But ah, that's just the hopeless romantic in me.
Citations: JOE JONAS TALKING ABOUT DEMI LOVATO WILL GIVE YOU CAMP ROCK FEELS (MTV)