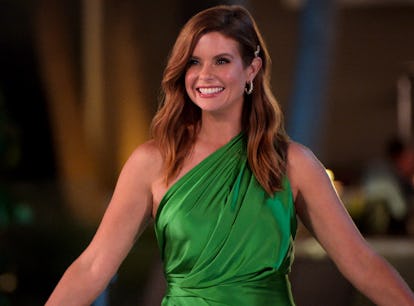 JoAnna Garcia Swisher Says Being The Straight Host Of A Queer Dating Show Was A Non-Issue
"It didn't really come up."
Netflix
For whatever reason, there's always some drama around the hosts of Netflix's dating shows. Nick and Vanessa Lachey always seem to end up in hot water during those tense Love Is Blind reunions, and viewers couldn't help but clown them during the first season of The Ultimatum. But Netflix's go-to hosting couple didn't return for The Ultimatum Season 2. Instead, their buddy JoAnna Garcia Swisher will guide the five mismatched couples in The Ultimatum: Queer Love. There's just one problem: Swisher is not queer herself. Although the explicit choice of a straight host for an all-lesbian dating show may seem like a head-scratcher for some viewers, Swisher tells Elite Daily that it wasn't an issue at all in making the show.
During Swisher's very first scene in The Ultimatum: Queer Love, the elephant in the room is addressed. "Is it correct that you're not queer?" one contestant shouts during the host's introduction. "I am not," Swisher responds, and the show goes on. Obviously, it would make a bit more sense for an actual queer woman to be the person to help guide these 10 lesbians through the high-pressure fake-marriage experiment ahead of them, but Swisher says nobody had a problem with her being at the helm of the show.
"It didn't really come up," Swisher tells Elite Daily when asked what it was like to host a show about queer love as a straight person. "It was what it was. It didn't feel like that was really a part of the process."
Swisher recognized that queer women experience unique issues that aren't part of heterosexual relationships, and that's what excited her even more about hosting the show. "Obviously, there are so many special nuances and complexities to queer relationships, which I think are really important to highlight and celebrate and shine light on," Swisher says. "It's a huge reason why this show is so special and so important. I was just so happy to be a part of it."
New episodes of The Ultimatum: Queer Love drop Wednesdays on Netflix.
Additional reporting by Rachel Chapman.