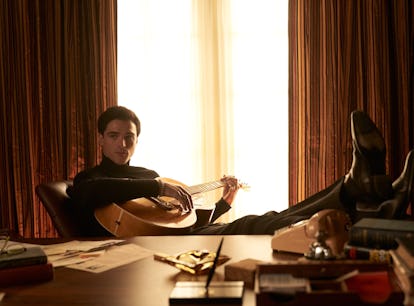 Jacob Elordi Addressed All Those Comparisons To Austin Butler
Priscilla
Ever since Jacob Elordi was cast in Priscilla, it seems that all anyone can talk about his how his portrayal of Elvis Presley compares to Austin Butler's. After all, Butler's biopic Elvis came out just one year before Priscilla, and his method approach to getting into character made tons of headlines. Elordi, on the other hand, has been a lot more lax about embodying the rock star. When the Priscilla star was finally asked how he felt about the inescapable comparisons, he wrote them off as "f*cking absurd."
Elordi told E! that he feels like movie fans have created a narrative in which he has to be at odds with Butler just because they recently played the same character. "I don't know why people make art a bloodsport. They turn it into the Coliseum," Elordi marveled. "It's f*cking absurd." He added that he thinks Elvis and Priscilla would make "a killer double feature."
The comments underline just how different the two portrayals of Elvis are. In Elvis, Butler played the icon as an inspiring rock star who was frequently taken advantage of by his longtime manager. But, as the name suggests, Priscilla shifts the focus to Presley's wife, and Elordi portrays Elvis as a cheating, inconsiderate husband.
The stark differences in how Elordi and Butler approached playing Elvis have also fascinated fans. Butler went to extreme lengths to transform into Elvis, working so closely with a vocal coach for years that people thought his voice actually changed when he still sounded like Elvis after the movie was over.
But for Elordi, the process was much simpler. He admitted on The Tonight Show that he wasn't familiar with Elvis at all before Priscilla, and his only reference for the legendary singer was when Stitch dressed up like him in the Disney movie Lilo & Stitch. He said he just watched one clip of Elvis and briefly read his lines before shooting his audition for the role.
So, while Elordi and Butler are technically playing the same character, it's clear that the roles are actually incredibly different.