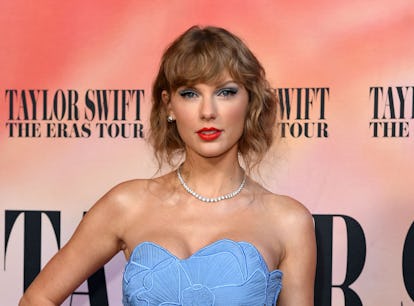 Swifties Have A Theory Taylor Secretly Wrote This Henry Cavill Movie
Buckle up, because this is a wild ride.
We all know Taylor Swift can write killer songs, but has she also been writing action novels in secret? That's the latest theory that Swifties are losing their minds over. It all has to do with the upcoming spy comedy Argylle, which is based on the work of an author who is completely shrouded in mystery. As more info about the movie and its mysterious author Elly Conway has come to light, Swifties have latched on to numerous details that seem to suggest Swift is actually behind the pen name.
The mystery of Elly Conway has been puzzling Hollywood for a few years, ever since Apple announced a big-budget movie adaptation of her yet-to-be-released book Argylle in 2021. Conway seemed to come from nowhere, and there's barely any information on her. She has a verified Instagram account, but there are no photos of her. Her bio on publishers' websites simply states she was born and raised in upstate New York and wrote Argylle while waitressing at a diner.
So, is Elly Conway a real person, or not? The plot of Argylle makes this mystery even more meta. The movie stars Bryce Dallas Howard as an author named Elly Conway who discovers the characters and events in her spy novels are actually real. Yep, Elly Conway is literally a character in the movie!
That revelation seemed to confirm the book's real author may have used the name Elly Conway as a pseudonym. And then, the Swiftie floodgates were opened.
Earlier this year, there were viral rumors Swift was about to release a book, along with the announcement that Swift would also be releasing a feature-length movie. From there, TikTokers began pointing out all the clues that Swift has secretly been Conway this whole time.
On the surface level, the trailer for Argylle just screams Swift's name in terms of aesthetics. The Elly Conway character carries around her cat in a cat backpack similar to the one Swift herself uses, and that cat just so happens to be a Scottish Fold, the same breed as Swift's two feline friends. Swift is also a well-known fan of argyle clothing — which has been part of her merch several times before.
Additionally, Howard's red hair in the movie closely resembles Swift's red hair at the end of the All Too Well music video, in which she appears as a book author.
But the theory goes even deeper. The movie's official Twitter account has been posting lyrics to Swift's songs "Style" and "Wonderland." And the Instagram account for Chip (the cat in Argylle, who is actually the pet of director Matthew Vaugh's wife Claudia Schiffer) has also been posting about Swift.
Elly Conway's own Instagram also feels extremely Swift-coded. She only follows 22 accounts — I don't know about you, but that number feels like a reference. Many of the account's aesthetics also feel similar to Swift's, like cozy shots of bookstores and a coffeecup profile picture that looks right out of the "Karma" video.
Oh, and not to mention that Conway Studios is where Swift has recorded several of her albums. She even wore a sweater emblazoned with the studio's name earlier this year.
The novel Argylle won't hit shelves until Jan. 9, and then the movie is coming out a month later on Feb. 2. Hopefully, Swifties will get some answers about this Elly Conway mystery around then.