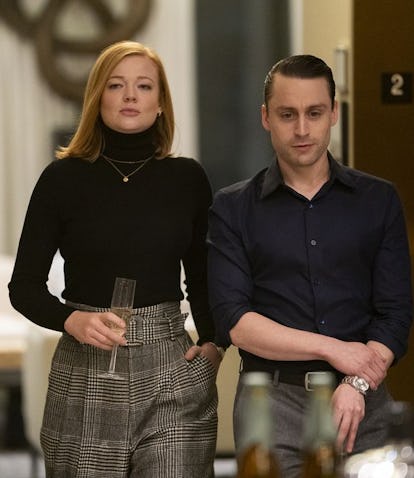 Succession Fans Are In Disbelief That Roman Is Supposedly Older Than Shiv
Wait, but what if they're twins?
HBO
The power dynamics in the Roy family are ever-changing, especially now that Logan is gone. Each of the four siblings has their own unique reasons why they would excel in running the family business better than the others — OK, well maybe Connor's not so much a part of all that. But one interesting element in this three-way sibling rivalry is that the Roys rarely ever pull rank based on age, like normal brothers and sisters usually do. It's clear Kendall's the eldest (not counting Connor), but Shiv and Roman's ages are never explicitly stated in the show. That ambiguity has led to a debate among Succession fans — who's older: Roman or Shiv? There is an official answer, but some fans will not have it.
There's been speculation about Shiv and Roman's birth order ever since Succession began, but the debate has reached a fever pitch in the show's final season. A prominent fan theory has purported the two could be twins, as evidenced by their close bond, past comments Roman has made to Shiv, and Roman's full name Romulus being a historical reference to a famous twin. But not everyone buys into that theory. To some fans, it's obvious that the more mature Shiv is older than her childish brother. But they'd be in for a shock. According to Shiv's official description on HBO's website, she's clearly described as "the youngest child in the Roy family."
The revelation didn't sway fans who are adamant that Shiv must be older than Roman, though. To them, it only makes sense for Shiv to be the middle child and Roman the youngest, no matter what the official birth order may be.
Apparently, even the Succession writers were a bit confused about which Roy was youngest at first. In a screenshot posted of the script book, a footnote reads that early episodes definitely seemed to imply that Roman was younger than Shiv, but the writers didn't go in that direction since Sarah Snook is younger than Kieran Culkin.
Fans shared further proof in the show that Shiv is younger than Roman, including childhood photos in the background and some of Shiv's overlooked "youngest child" behavior.
Still, although there is technically and official birth order, it has yet to be explicitly addressed on Succession at all. Hopefully, this Shiv-Roman debate will be put to bed in the final episodes of Succession, which air Sunday nights at 9 p.m. ET on HBO and HBO Max.