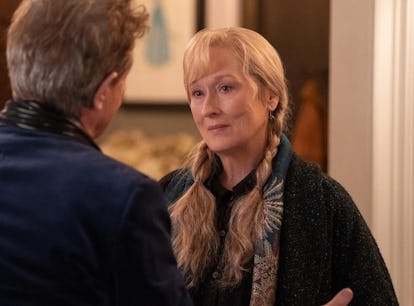 This Only Murders Theory About Loretta & Dickie Might Explain Everything
Hulu
All season long, Only Murders in the Building fans have been wondering how Meryl Streep's enigmatic character fits into the story. The struggling actor Loretta seemed too obvious to actually be unmasked as the murderer in the end, but too important to not be part of the central mystery. Now, a strong fan theory has emerged that Loretta may be hiding a very important secret relationship, and the revelation would change everything.
Spoiler alert: This post discusses details from Only Murders in the Building Season 3, Episode 7. Loretta has been a real puzzle for viewers. There are a lot of reasons to believe she killed Ben: she was feuding with the leading man, called him a "f*cking pig" right before his death (the same phrase that was written on his mirror), and most damning of all, Oliver discovered she kept an obsessive scrapbook filled with news clippings about Ben throughout his entire career. But that scrapbook could actually have a totally different meaning after the latest revelation in Episode 7.
The new episode confirmed that Ben's brother Dickie was adopted. And that piece of info opened up a major new theory about Dickie's true parentage. Fans are guessing that Loretta may be Dickie's mother, and the two could have secretly worked together to take down Ben.
There have been a few suspicious interactions that support this theory. After Ben's death, Dickie immediately began working for Loretta, quickly landing her a TV gig. Eagle-eyed viewers also pointed out that every picture in Loretta's scrapbook had Dickie in it, suggesting that she may have kept the clippings to keep up with her long-lost son and not Ben.
The mother-son connection would also add to Loretta and Dickie's motive to want to kill Ben. Clearly, Ben had been walking all over Dickie his whole life, and Ben was also standing in the way of Loretta's big break. If Loretta and Dickie reconnected at the beginning of the Death Rattle rehearsals, they could have come up with a plan to dispose of Ben and finally come together as a mother-son power duo at last.
New episodes of Only Murders in the Building Season 3 drop Tuesdays on Hulu.