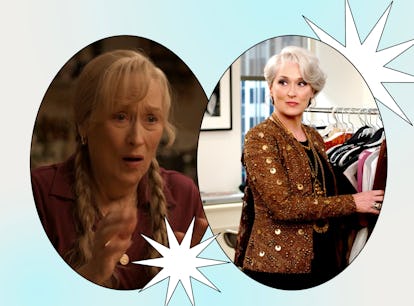 Only Murders Hid A Devil Wears Prada Easter Egg In Meryl's Apartment
Miranda Priestly would approve. Well, maybe.
While looking for clues in the new season of Only Murders in the Building, Meryl Streep superfans might notice a lot of familiar objects. That's because the show's production team hid several Easter eggs that nod to some of Streep's most iconic movie roles throughout her character Loretta's trinket-filled apartment. And yes, there's even a subtle shoutout to Streep's most deliciously devilish character of all: The Devil Wears Prada's, Miranda Priestly.
The Streep Easter eggs are all over Episode 5 of Only Murders in the Building Season 3 when Loretta invites Oliver to her apartment for a dinner date that starts off as a disaster but ends up sparking an unexpected romance. The long-struggling actor's one-bedroom flat may be small, but it's richly decorated with knickknacks, posters, and unique art pieces. And a lot of thought went into every single detail. Production designer Rich Murray spilled to Variety that the apartment is littered with subtle references to Streep's legendary movie career.
Some of the Easter eggs are pretty obvious — the Suffragette poster on Loretta's wall is the same name as Streep's 2015 film of the same name; her refrigerator door includes postcards sent from Streep's Kramer vs. Kramer character to her son; her ottoman is designed in a pattern reminiscent of Out of Africa. And of course, the whole cooking scene itself brings to mind Streep's culinary turn in 2009's Julie & Julia, which is also hinted at in how Loretta's tulips are arranged similarly to a tulip arrangement in that movie.
But one of Streep's most beloved roles received the most hard-to-find Easter egg of all. Murray confirmed a Devil Wears Prada Easter egg is hidden among Loretta's books. "We built a series of books in her bookcase, and across the book spines is the logo from the film," he shared.
The logo may be difficult to make out in the books, but it's not as hard to see how the bookcase itself was also inspired by The Devil Wears Prada. The white, pull-out shelves closely resemble the white pillars holding the couture clothing hangers in the Runway Magazine closet.
Loretta's final line while Oliver is looking through her bookcase is also very Miranda Priestly. "I'm waiting," she impatiently decrees from the other room.
New episodes of Only Murders in the Building Season 3 drop Tuesdays on Hulu.