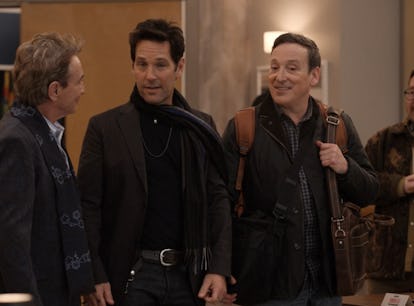 I'm So Convinced By This Only Murders Season 3 Twin Theory
The tattoos spell it all out!
Hulu
Season 3 of Only Murders in the Building may have only just begun, but super-sleuth viewers may have already solved a huge mystery at its core. After noticing a very interesting inconsistency in one character's tattoos, a pretty convincing twin theory has formed among fans. And honestly, although it sounds pretty wild, the theory that Ben has a secret twin (or even is secretly a triplet) could fully explain what's really going on this season.
The theory claims that Ben has a twin brother that he will often trade places with in social situations. This would explain why Ben was behaving so differently in his private rehearsals with Oliver and in his dressing room conversation with Charles than he did at every other appearance. With Oliver, Ben expressed a vulnerability and self-deprecation that felt completely out of character, and shortly after that, he confronted Charles for filling him with self-doubt and making him nervous whenever auditioning for roles due to how coldly Charles treated him on Brazzos.
But if he was really that terrified of those situations, how was he able to be so confident and outgoing at the first read-through of Death Rattle? That's where the twin theory comes in. The speculation is that there's the shy Ben who has real acting skills, but avoids social situations after being traumatized by Charles. So shy Ben has his overly confident twin brother take over for him in those instances.
And there's actually hard evidence backing this theory up. At the read-through, Ben has the letters "GC" tattooed on his index and middle fingers, which likely stands for his hit show Girl Cop.
However, in his vulnerable scenes with Oliver and Charles, Ben's tattoos are reversed. He has "CG" tattooed on his fingers.
It's unclear what this could stand for, but there's a chance it could be this twin's initials: C. Glenroy.
Notably, the dead body is shown to have the "GC" tattoos, meaning it was the outgoing Ben who died in the elevator shaft.
So, could the shy, actor Ben still be alive somewhere, or did he really die on the stage and then the second death was that of his twin, who tried to cover up his brother's on-stage demise?
Believe it or not, the theory goes even deeper. There could also be reason to believe there's a third Ben. The triplets theory comes largely from two sources: Ben's name and an element of Oliver's play. Ben's full name, Ben Glenroy, notably contains three traditional first names — could Ben, Glen, and Roy actually be the names of a group of triplets? There's also the fact that Oliver's revamped musical version of Death Rattle replaces one baby with three, which could be yet another triplet hint.
Of course, there's still a lot of this mystery for fans to try to work out, but the twin or triplet theory definitely feels like a great start at unraveling Only Murders Season 3.