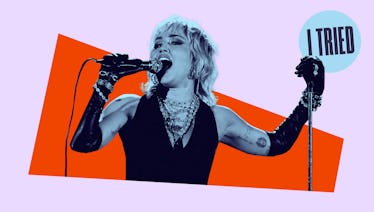 I Tried The #MileyChallenge & It Was The Hardest Workout Ever
Jamie Squire/Getty Images
Miley Cyrus is the queen of setting trends. The 28-year-old multi-hyphenate makes her own rules in all aspects of her life, including her style, her acting, and of course, with her award-winning vocal performances. Add to that list: her workouts. Recently, Cyrus showed fans the unconventional way she preps for physically demanding concerts, and since then, you've probably seen someone on social media singing while running, just like Miley Cyrus.
ICYMI, on Feb. 3, Cyrus posted an Instagram video of herself briskly walking while singing her song "Plastic Hearts" in preparation for her 2021 Super Bowl pre-show performance. She followed it up with another post on Feb. 4, in which she full-on ran and sang "Rebel Girl" by the band Bikini Kill. Despite doing some seriously intense cardio, Cyrus never missed a note in either video.
After Cyrus wowed fans with her ability to multitask, a handful of celebs decided to see if they, too, could sing while exercising. On Feb. 4, Lizzo posted a video of herself running while singing her song "Cuz I Love You." Then, on Feb. 12, Alicia Keys rode her Peloton bike while singing her hit number "Superwoman." Cyrus' trend got so much traction that Peloton turned it into a full-on social media challenge, which was of course dubbed the #MileyChallenge.
In the past, any challenge involving vigorous exercise would be a hard pass for me. Since the start of 2021, however, I've made wellness a priority in my life. I'm drinking more water, getting more sleep, and I aim to take 10,000 steps a day. So, when I came across Cyrus' videos and saw how powerful she looked, I had to see if I too possessed the superpower of being able to sing while running.