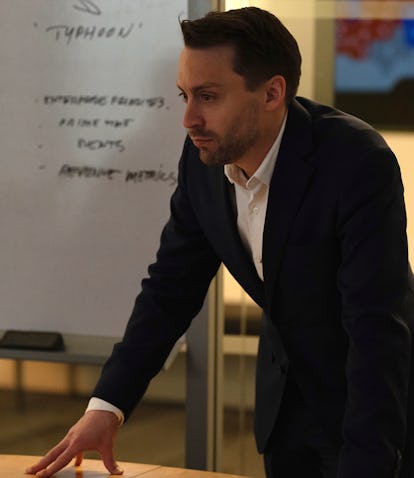 The Un-Babygirl-ification Of Roman Roy
Fans are done fawning over him after that election episode.
It's D-Day for the Roman girlies. Succession's unnerving election episode made it basically impossible for the growing Roman Roy fanbase to defend their favorite comfort character, and in its aftermath, fans online had to reckon with why they were fawning over Logan's baby boy in the first place. Here's how Succession brought an end to the Roman Roy "babygirl" memes that had been taking over the internet at the start of the final season.
Spoiler alert: This post discusses details from Succession Season 4, Episode 8. Every Succession fan has their favorite character, but the Roman standom has a very unique way of expressing their love for him. Increasingly, the morally questionable business tycoon has become their "babygirl," with viral TikTok edits embracing his sweetly immature charms. But that perception of him hit a wall after his behavior during the presidential election.
Throughout "America Decides," Roman ruthlessly jockeyed for the alt-right fascist Jeryd Mencken to be elected president, pulling any string he possibly could to force his network ATN to call the election in his favor, despite the fact that ballots had been destroyed. Roman's vile politics — and overall cruel habits — aren't really new. He's been buddy-buddy with Mencken for a while now, he's sexually harassed Gerri, and lest we forget, in the very first episode he tore up a check for a million dollars in front of a child's face. But it's been surprisingly easy for some Roman devotees to look past his faults, especially in his grief over the loss of his father. When he wore Logan's sweater, fans got emotional, and when he couldn't stop listening to a video of his late father insulting him, RomeHive assembled to support their babygirl.
But there was no babygirling out of Roman's deplorable politics being on full display. After the election episode emphasized just how evil Roman's political ideals are, Succession fans called a wrap on the babygirl-ification of Roman.
So, is there any hope left for the Roman girlies, or is he cooked for good now? The answer to that is in the final episodes of Succession, which air Sunday nights at 9 p.m. ET on HBO and HBO Max.