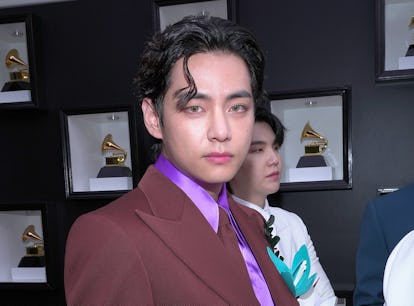 The Location Of V's Friendship Tattoo Is Finally Official
His tattoo artist shared the answer on Instagram.
Kevin Mazur/Getty Images Entertainment/Getty Images
Now that BTS has confirmed they have matching friendship tattoos, you know what that means. Every member of the group is officially part of the tattoo club. If you're a baby ARMY whose bias is V, then you're probably wondering whether the singer had any other tattoos before this one and whether he's gotten any new ink since. So, how many tattoos does V have in total? Just like RM, Jin, Suga, and J-Hope, V's first and only tattoo that fans are aware of is the friendship tattoo.
V apparently teased that he was thinking about getting his first tattoo months before BTS announced their matching ink in June 2022. It all started that April when a fan told V on Weverse not to get inked, and he replied that the choice was up to him. "That's something I'll handle myself," he said, according to a fan translation by @btsinthemoment on Twitter. "We're going to get friendship tattoos someday, please look forward to it."
That day finally arrived on June 10 when RM unveiled a "7" tattoo on his Instagram Story. Soon after, J-Hope, Jungkook, Jin, and Jimin shared photos of their "7" tattoos. BTS then revealed in their June 14 FESTA dinner video that their tattoos are meant to serve as a physical reminder of their connection.
A few days later, on June 18, V appeared to show off his ink on his IG Story when he posted a close-up of his arm with a "7" on it. The ink was placed in between two moles on his arm. This is fitting as V is known to pinch the sides of his arm to make it look like an elephant's nose with his moles acting as the elephant's eyes. Since he appeared to get a "7" tattoo between his moles, V wouldn't need to pinch his arms anymore because the number could double as a nose.
While the idea of V getting his "7" inked near his moles was cute, some fans on Twitter questioned whether his ink was real. "Pretty sure taehyung's lil seven tattoo was drawn on with a marker or something," one person tweeted. "Is the tattoo real or we clownin'?" another wrote. "I think taehyung is still deciding on where he would get his tattoo done?? but this is very genius of him, the elephant mole."
As it turns out, the skepticism was just because, when his photoshoot for Vogue Korea dropped in September 2022, some fans thought they spotted a small "7" tattoo on V's thigh.
Thankfully, V didn't keep ARMY guessing about his tattoo placement for long. On Dec. 16, he shared a series of photos from his vacation in Mexico on Instagram. In one picture, his "7" tattoo could be clearly seen on his thigh.
Most recently, on Jan. 3, the tattoo artist, known as @polyc_sj on Instagram, shared a close-up of V's tattoo, subsequently ending all speculation.
As for the possibility of additional tattoos, V hasn't shared any known ink on social media beside his friendship tattoo.