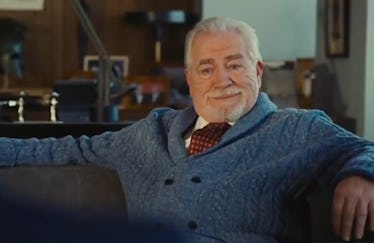 Brian Cox Trolled Succession Fans So Hard & They Can't Help But Respect It
The way he messed up sooooo many fan theories with this.
HBO
Much like media magnate Logan Roy himself, Brian Cox knows how TV works, and he proved it in the most brilliantly troll-y way possible. As Logan's funeral episode aired on May 21, fans of Succession realized a stunt Cox had pulled months earlier to pull one over on the most eagle-eyed, theory-loving viewers. Here's how Brian Cox trolled Succession fans while filming Logan's funeral episode.
Obviously, since this is the final season of Succession, hardcore fans had been on high alert long before Season 4 premiered. During production at the end of 2022 and start of 2023, rumors were running rampant among the fandom that a main character was going to die. Turns out, those rumors were true. Much earlier in the season than expected, Logan died on his private plane, and the penultimate episode of the series was set at his funeral.
On the surface, Logan probably would have been the most heavily predicted character to get killed off in the final season — he's the oldest main character, was in very poor health, and his death clears the way for one of his kids to finally take over. But Cox did something to throw fans off of this Logan theory. To ensure Logan's death wouldn't get spoiled ahead of time, Cox showed up on set when the funeral episode was being shot, even though he didn't film anything. Fans put the stunt together after Logan's funeral aired, marveling at how the actor knew if he was photographed on set for that shoot, fans would naturally assume Logan wasn't the character to die.
Sure enough, when the Daily Mail posted paparazzi shots of the funeral filming on Jan. 10, fans were convinced Logan would actually survive to the end of the series due to Cox's appearance.
Leave it to Logan Roy to masterfully use the media to his own advantage. Consider the move his finale Succession magic trick. Now, all eyes are on his children to see who will wind up on top when the final episode of Succession airs Sunday, May 28 at 9 p.m. ET on HBO and HBO Max.