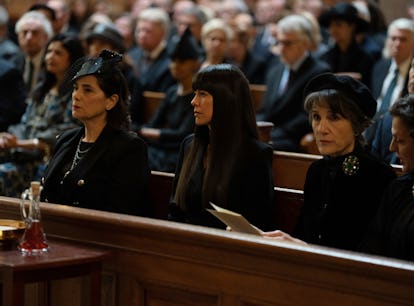 Brian Cox's Wife Had The Perfect Succession Cameo You Didn't Even Notice
HBO
Spoiler alert: This post discusses details from Succession Season 4, Episode 9.
Logan Roy's funeral brought out a whole church-full of familiar faces within the Succession universe, and one totally new one. Except, Sally-Anne isn't a stranger to the real-life Logan Roy. That was actually Brian Cox's wife, who's Succession cameo as Logan's former mistress was such a fun little Easter egg for the superfans in the know.
While Logan's funeral was obviously full of heartbreaking moments, there was one uplifting scene. Rather than tear each other down over jealous resentment as they have in the past, Logan's ex-wives Caroline and Marcia surprisingly made peace with each other, and with Kerry, the assistant Logan was sleeping with at the end of his life. The three women came together and sat side by side in the front row at the funeral, trading knowing remarks about their former lover's sleeping habits that only they would know and supporting each other through the difficult day. The moment of solidarity stood out as one of the most triumphant moments of the series, especially given how hard Succession can be on its women characters. But the scene had even more meaning than viewers probably realized upon first watching it.
Caroline also brought a surprise guest to be part of the Logan's Angels crew. She introduced Sally-Anne to Marcia as "my Kerry, so to speak," insinuating that Logan was sleeping with her back when he was married to Caroline. Not only did Sally-Anne's addition to the group underline Logan's history of womanizing even more, but it was also a cute meta joke. Sally-Anne was played by Nicole Ansari-Cox, Brian Cox's wife. When fans realized Cox's real wife was playing his character's former mistress, they celebrated the clever cameo on social media.
Cox and Ansari-Cox married in 2002. She's also an actor, who's appeared in hit shows like Deadwood, The Blacklist, and most recently, Law & Order. She's worked with her husband on several projects before her Succession appearance — the IRL couple co-starred in the 2013 comedy Blumenthal, the 2020 thriller Last Moment of Clarity, the 2021 drama Lawrence: After Arabia, among other films.
Although she didn't get to share the screen with him on Succession, it was nice to have Ansari-Cox pay her respects to her husband's most iconic character in such a cheeky way.