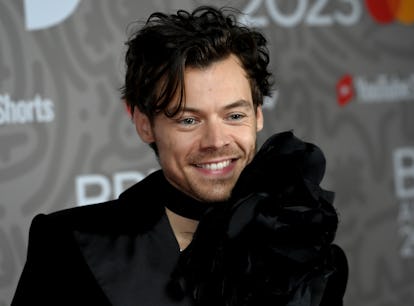 Why Harry Styles Deleted That Selfie With The 1D T-Shirt On
Dave J Hogan/Getty Images Entertainment/Getty Images
Once a Directioner, always a Directioner. This unofficial slogan can be said for all the One Direction stans still reliving the band's takeover in the early 2010s. Their Beatlemania-style domination was such a golden time in music history, so it's no surprise when fans call back on that era — including former member Harry Styles. The singer recently flaunted his boy band roots by sharing (then later deleting) a photo of him wearing 1D merch on Instagram. Don't worry, though. The fans came in clutch with screenshots.
ICYMI, on March 5, Styles posted a gym selfie on his IG stories. In the photo, he's reportedly seen wearing a tee from the band's 2012 Up All Night tour, which features a multi-colored photo of Styles and former bandmates Louis Tomlinson, Zayn Malik, Niall Horan, and Liam Payne on the front. He quietly deleted the photo shortly afterwards; however, that didn't stop fans from obsessing over the historic shot on Twitter.
It's not every day a member of the most iconic boybands reference their, well, once legendary status. After a few days of stans reacting and keyboard screaming — as they should — to Styles' photo, the singer revealed why he removed the photo during his Love on Tour stop in Auckland, New Zealand.
In a TikTok from the Mar. 7 show, the Harry's House performer hinted that the post wasn't meant for the general public. "I guess some of us have secrets," Styles said. "Maybe, like some people, you want to keep something to yourself, and maybe one day you will accidentally post it to your Instagram Story."
While his selfie might've been a nod to 1D, it could've doubled as an appreciation post to a fan if he hadn't quickly deleted it. On Mar. 5, TikTok user @megan.pron alleged she gifted Styles the same shirt seen in the IG photo during a Love On Tour show. In the brief clip, she posted the since-deleted selfie alongside a few clips of the singer picking up the shirt and leaving the stage with it along his shoulder. Honestly, kudos to her for giving him a nostalgic shirt rather than a handful of chicken nuggets.
"I just cried for an hour," Megan captioned the post. OK, but imagine Styles' flexing a gift you gave him in a photo that was meant for his close friends list?
This isn't the only time Styles has looked back on his 1D era. While accepting his Artist of the Year crown at the 2023 BRIT Awards, the "Cinema" singer sent a shoutout to his former bandmates. "I want to thank Niall, Louis, Liam, and Zayn because I wouldn't be here without them either," he said at the Feb. 11 awards show, proudly wielding his bronze trophy. "I'm really grateful for this."
It's sweet to see that Styles and other members of the band— a.k.a, everyone but Liam Payne — are still Directioners at heart.