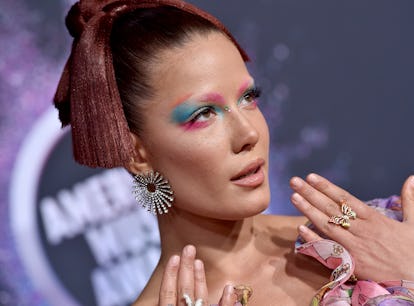 13 Photos Of Halsey Through The Years That Show How Far They've Come
Remember when blue hair was her staple look?
Axelle/Bauer-Griffin/FilmMagic/Getty Images
Halsey has laid down roots and started a family in sunny Los Angeles, but is still a total east-coaster at heart. The pop singer grew up in the small town of Clark, New Jersey, and started out playing and attending local shows throughout the tri-state area. Their evolution from small-town hero to A-list pop star is truly a special one. "I didn't like being Ashley Frangipane," Halsey previously told Rolling Stone in July 2016. "It was a person I thought was weak and silly and sad." Instead, they took on the Halsey Moniker — an ode to the street they lived on in Brooklyn, which also happened to be an anagram of Ashley.
Still, fans sometimes affectionately call them Ashley, because Halsey's got a way of making everyone feel like a friend. She remembers fans by name, reps her home city to this day, and is humble through and through. Halsey is mixed-race (their mom is of Italian, Hungarian, and Irish descent while their dad is Black), and has carved out a unique place in the music industry. Ashley is a pop star of epic proportions, but they actually have rock & roll roots. Fans loved Halsey's earliest, edgier hits, which made it obvious they grew up on a stedy diet of Nirvana, The Cure, and Biggie Smalls.
Whether you consider her a rock star, a pop star, or something in between, Halsey's journey is seriously impressive.