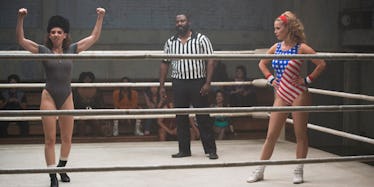 6 Things We Can Expect To Happen In 'GLOW' Season 2
Netflix
Ok, I know that GLOW just came out, but if you are as instantly addicted to it as I am, then you've already binged your way through all ten episodes of the first season.
Although the show hasn't officially been picked up for a second season yet, I think we can rest assured that the '80s wrestling dramedy is going to get another season order, despite how weird Netflix has been with cancelling its beloved original shows recently (RIP Sense8 and The Get Down).
But a renewal seems very likely for GLOW -- after all, it's getting tons of love from critics, and Jenji Kohan's other series Orange Is the New Black is one of Netflix's tentpole shows and has been renewed through seven seasons by the service.
So if you have already burned through the first season, then you're probably speculating what is going to happen to everyone in Season 2. I have a few theories about what seems likely to happen.
SPOILER ALERT: Obviously, don't read about these Season 2 theories until you've finished the first season of GLOW.
1. The wrestling show rises to fame and the women become stars.
Probably the most obvious path for GLOW to take next season is to follow the rise of the women's wrestling show in popularity. Season 1 ended with the ladies taping their first episode, and although we're left in the dark on how it was received, it's pretty clear that it's going to become a hit and launch all the wrestlers into stardom.
This would open up GLOW to exploring the well-trod television territory of examining normal people thrust into fame for the first time. A starring role is something Ruth has always wanted, and it's something that most of the other wrestlers never even seriously considered.
The added press attention and celebrity status will add a really interesting new dynamic for the characters, and create a lot of new drama between them as they vie to become the breakout star.
2. Ruth and Debbie mending their friendship.
With the show on the rise and Ruth and Debbie as the headliners, it seems like things will actually start to get better between them... at least at the start of the new season. The bulk of the first season was spent with Debbie hating Ruth after finding out that she slept with her husband, but they slowly grew closer when they became wrestling partners.
Although it looks like Ruth and Debbie are on their way to rekindling their friendship, there's still plenty of fodder for them to return to hating each other — particularly if Debbie finds out that Ruth was actually pregnant with her husband's child.
3. Cherry possibly quitting the team.
The wrestling show is on to bigger and better things, and so is Cherry Bang. At the end of the first season, Cherry finds out she's been cast as a lead in a new show, but would have to quit "GLOW" to take it. When last we see her, she and her husband are celebrating the news, so it sure seems like she's going to leave the team behind to pursue her acting career.
4. Arthie challenging the racist wrestling personas.
While things are looking up for pretty much everyone at the end of Season 1, it's more complicated for Arthie. Cast to play a stereotypical and racist role of a Middle Eastern terrorist in the wrestling show, she experiences a level of extreme hatred from the audience that she was not expecting.
When last we see her, Arthie is visibly shaken by the audience's vitriol towards her. Given Arthie's response to her treatment and the fact that Jenji Kohan is known for taking on racism in her shows, this seems like a pretty clear plot point to address next season.
5. Justine bonding with Sam.
The big reveal of Season 1 comes towards the end, when we discover that Justine is actually Sam's daughter. His initial callousness to learning the truth causes Justine to close herself off to Sam, but he eventually apologizes (awkwardly) and they tenuously make up.
Now that the truth is out, Season 2 will probably see Sam and Justine attempting to bond with each other after so many years apart.
6. Bash struggles with his sexuality.
Okay, this one is more speculation than the rest of my theories, but I think it's a possibility! After all, Jenji Kohan's shows usually deal heavily with sexuality and gender identity, but there's no character on GLOW we know of that identifies as LGBT+ yet. Annnddd, I just feel like there's something weird going on between Bash and his butler Florian. Like, I mean, come on.