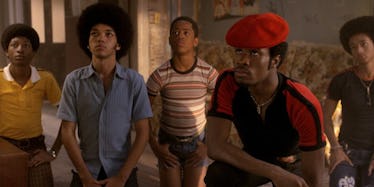 'The Get Down' Becomes The First Netflix Original Drama To Not Get A Second Season
Netflix
It was the day the music died on Netflix.
The streaming giant announced on Wednesday it would not be picking up a second season of Baz Luhrmann's sprawling '70s hip-hop drama The Get Down for a second season, marking the first time Netflix has canceled one of its original dramas after just one season.
It sounds like the reason for the cancellation had to do with Luhrmann's busy schedule. The director posted on Facebook his undivided commitment to the series has kept him from pursuing other projects, and although he wishes he could continue making the show, he is going back to working on movies.
The Get Down marked Luhrmann's first television project.
The creator did tease that some plans for a future continuation of The Get Down have been discussed, particularly a stage show, but it sounds like Baz is going to be refocusing his career back to movies now.
The cancellation is a notable move for Netflix, considering the platform is known for renewing its original series for multiple seasons almost without fail. Every other original drama on Netflix either has already had or has been renewed for a second season.
The only original programs Netflix has ended after one season are Wet Hot American Summer: First Day of Camp, W/ Bob & David, and The Characters, two of which are comedy revivals that felt complete after a short reboot, and the last of which was simply meant as a quick showcase for contemporary sketch comedians.
Alongside Baz Luhrmann's high demand, another reason for the shocking cancellation is likely the insane cost of The Get Down.
The 12-episode first season of the show reportedly cost Netflix a whopping $120 million to make, according to Deadline. Additionally, it famously suffered from a number of production delays and split its first season into two parts airing 8 months apart.
Despite the show being canceled, its young cast, largely full of previously unknown actors, is set up for a promising career because of The Get Down. The show's lead Justice Smith (Ezekiel "Book" Figuero) is cast in Jurassic World 2, Shameik Moore (Shaolin Fantastic) is set to voice Spider-Man in an upcoming movie, and Yahya Abdul-Mateen II (Clarence "Cadillac" Caldwell) is going to be in Aquaman.
I guess the exciting bit that we can take from this sad news is that Baz Luhrmann is working on new movies!
Citations: Baz Luhrmann's 'The Get Down' Canceled By Netflix After One Season (Deadline)