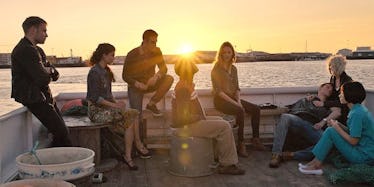 Netflix Officially Canceled 'Sense8' After 2 Seasons And Fans Are Pissed
Netflix
Traditionally, Netflix hasn't been known for canceling its original shows, but it's turned over a vicious new leaf this month.
Just a few days after Netflix announced it was not picking up The Get Down for a second season, the streaming service is now letting fans know its sprawling, sci-fi drama Sense8 is also getting the ax and will not be returning for a third season.
The news is extra painful to fans who just finished watching the show's second season a couple weeks ago, which ends on a cliffhanger where the sensates finally appear to have an upper hand in their war against main antagonist Whispers.
Though it only ran for 2 seasons, Sense8 became known as one of the most groundbreaking shows on air in terms of sexuality and race representation, telling the story of 8 diverse strangers from around the planet who can physically share their experiences with one another.
Some of the stars of the show shared their grief over the cancellation news on social media.
Brian Smith, who played the cop and de facto sensate leader, Will, wrote the show "was the greatest experience of [his] career, and [he's] going to miss it more than [he] can say" on his Instagram.
And of course, fans of the show also took to social media to express their sadness and anger over the cancellation.
Many fans also pointed out the ridiculous timing of the cancellation: the first day of LGBTQ+ Pride month.
Considering how inclusive the show has been to LGBTQ+ representation, it felt like another dagger to the heart of many fans.
But a Sense8 fan never gives up. A number of fans are also tweeting at Netflix to renege on the cancellation and allow the show to have a final season. Some are even tweeting at other networks to pick up the show.
But sadly, it looks like this is goodbye to Sense8.
Citations: Netflix Cancels 'Sense8' (Variety)