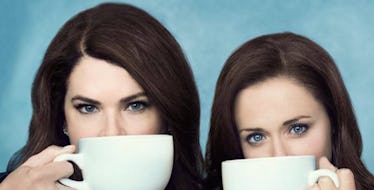 This 'Gilmore Girls' Website Will Make You Feel Like You Live In Stars Hollow
Netflix
Real talk: all of this "Gilmore Girls" news hitting the web lately has been making me lose my mind because I am SO FREAKING PUMPED for the revival to get here.
An epic "Gilmore Girls" featurette dropped today, along with the truth bomb that Luke's Diner actually exists IRL.
WELL, at least it did for a good portion of this morning as pop-up cafes took over lucky locations throughout the United States.
I'm totally not jealous of the fans who got to sip Luke's Coffee.
Really though… I'm not jelly AT ALL.
And if you thought this day couldn't get any better with "Gilmore Girls" scoop, you are oh soooooooooo wrong.
Apparently, a "Gilmore Girls" website exists, and it will pretty much make you feel like you live in Stars Hollow with Rory, Lorelai and the rest of the squad.
The homepage casually blames Kirk for losing the password to the site back in 2007 (typical), and he just recovered it. OOPS.
The site will be completely up to date just in time for the "Gilmore Girls" revival to grace our TV screens on November 25.
This website is literally sweet life itself it's just SO dang good.
Welcome to the town of Stars Hollow, everyone…
Shoutout to that advice advertisement on the right. Looking v. good, Kirk.
The "Town Updates" section will keep all of us fanatics in the know on what's going on in Stars Hollow.
In the "Local Artists" gallery you can browse works of art by the people of Stars Hollow.
The "Directory" will make all of us super nostalgic. What's UP Luke's Diner and Doose's Market?!
Last, but certainly not least, are the "Town Meetings Requests."
I literally already feel like I live in Stars Hollow. BRB, I'm just packing my bags.
Citations: This New "Gilmore Girls" Website Has Us Hyped For the Revival (Teen Vogue)