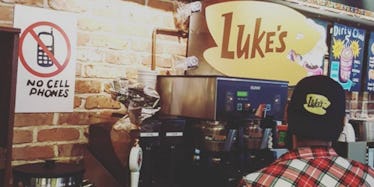 Luke's Diner From 'Gilmore Girls' Exists And The Photos Will Give You Life
OK, the bad news: By the time you read this, you've probably already missed out on the free coffee at Luke's diner from "Gilmore Girls."
The good news: Luke's diner from "Gilmore Girls" is a real freakin' place, fans all over the country got free coffee this morning and they took some really cute pictures of it.
In case you didn't hear, on Wednesday morning Netflix converted 200 cafes across the United States and Canada into Luke's diners, complete with Luke's signature sign.
The pop-up cafes lasted from 7 am until noon — so if you're reading this before noon, there's still time to find a Luke's near you! Check out the map of Luke's locations here.
The free coffee part was only until supplies last so while you might have missed out on that, you can still get an adorable picture in front of the Luke's sign.
And if you need inspiration/to live vicariously, you can check out all these people's adorable pictures, too.
I just can't get over it. Luke's is real, you guys!
The coffee cups even had the Luke's sign on it.
And they featured some of the best Lorelai Gilmore quotes about coffee.
Some of the converted cafes even had their very own grumpy, Millennial-hating Luke Danes.
(Made of cardboard.)
Along with Luke's famous "No cell phones" sign.
And some of the baristas even donned the Luke's server uniform.
Obviously, fans got in the flannel-and-backwards-baseball-cap spirit, too.
All in all, it was a very Luke's kind of day.
Somewhere in Stars Hollow, Lorelai Gilmore is very happy and very caffeinated.
All of this was to promote the upcoming "Gilmore Girls" revival, "Gilmore Girls: A Year in the Life." The revival will feature four 90-minute episodes premiering on Netflix on November 25.
Honestly, it looks amazing.
It's been a great year for "Gilmore Girls" fans, and it's only going to get better.