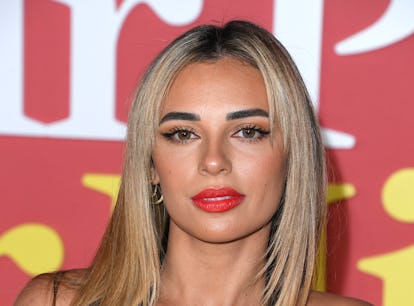 Georgia Hassarati Shared Harry Jowsey's Breakup Letter
And claimed he kicked her out of his house 😬
Steve Granitz/FilmMagic/Getty Images
Georgia Hassarati is done holding back. On Aug. 10, the Perfect Match winner went on Sofia Franklyn's podcast Sofia With An F to discuss her ex-boyfriend Harry Jowsey. The couple dated for about a year, but it didn't end well, and on July 19, Jowsey went on Alex Cooper's Call Her Daddy podcast and accused Hassarati of cheating on him. Though Hassarati countered some of his accusations on her TikTok account on July 30, fans clamored for her to go on Sofia With An F to give a fuller picture of her side of things... and she delivered.
"You've done your bit. Now I can do mine," Hassarati said on Franklyn's podcast, explaining her mindset in speaking out to defend herself. She went on to explain how Jowsey had accused her of cheating on him at Coachella in April, due to a "gut feeling" he had. "I worked overtime" to reassure him, Hassarati recalled, explaining how she actually sent him a photo of her eating pasta in bed to prove she was home alone. According to her, that wasn't good enough for Jowsey, who wanted a video instead. "You didn't film the room, so how do I know there wasn't a guy there?" he reportedly asked her.
Despite Hassarati's constant reassurances throughout Coachella weekend, Jowsey apparently refused to hear her out. She claimed that instead, on the phone, he was "screaming, projecting, [and] calling me a narcissist." He also told her he'd be throwing her stuff to the curb unless she picked it up from his house. When Hassarati agreed to get her things, she realized Jowsey had left her a breakup letter, which she read aloud on the podcast:
"Georgia, I would like to apologize for my words the other night. I'm deeply sorry for saying that. There's no warrant for those words to come out of my mouth. I hope you had an amazing weekend. There's a lot to say, but I don't want to fight anymore so I'll just leave it at this: I love you deeply, and I believe you are my soulmate, but I give up. I cannot do this anymore, and no one should have to beg for respect from their partner. I had simple boundaries and things I needed from you, and you stepped over them. Anyways, as you wish, I will not speak to you unless you would like to speak to me. If you would like me to pay for a hotel or Airbnb while you look for a spot I'm happy to do so. I love you. Wish you nothing but peace and happiness in your life, and if you need anything, please call. Be safe."
That wasn't all Hassarati revealed. According to her, Jowsey publicly lied about the beginning of their relationship. In April 2022, he claimed that he and Hassarati slept together the first time they met, while she was still seeing Perfect Match's Dom Gabriel. "We did not sleep together that day," she told Franklyn, then guessed at Jowsey's motivations for lying. "He knew what kind of show I just went on, and I won it... I was the girl from my season [of Too Hot To Handle] no one could really get close to… Don't you think for two seconds it made the guy look good to say, 'Yeah I slept with her the day I met her.' Why does no one see that?"
She continued, "I think he [lied] because he knew people knew I won [Perfect Match], and to insert himself in something that had nothing to do with him and gain a massive amount of attention from it when he wasn't even on the show is very true to his character. And he did it. He pulled it off." Though Hassarati received massive amounts of hate for reportedly "cheating" on Gabriel with Jowsey, her then-boyfriend (Jowsey) never clarified his remarks or admitted to lying. She claimed that once, when she "begged" him to post something on Instagram telling the truth, he told her, "You should... know what kind of person I am. I say things online for a reaction. If you don't like that, get out of my house and we will not be together."
Per Hassarati, she was happy to leave their tumultuous relationship in the past when they broke up after Coachella, until Jowsey started speaking about her again. The constant drama prompted her to reach out to another one of Jowsey's exes, Francesca Farago, who was on Perfect Match at the same time as her (and funnily enough, also dated Gabriel on the show). "It's funny because exactly this experience... was what Francesca experienced," she told Franklyn, noting that Jowsey also made his and Farago's breakup a public spectacle in 2020, claiming she was on a vacation with an ex in Las Vegas when he needed her support.
Though Hassarati and Farago initially didn't get along (partly due to Hassarati believing Jowsey's version of events), they've become closer in the aftermath of this controversy. "[Francesca] has been lovely and so supportive. We were pinned against each other from the start," she explained. "[Her story] gives me the validation and proof that I'll get to where she is and be happy, and this will be something of the past." Plus, Hassarati pointed out, "I can now advocate her experience, and if people don't believe it, so be it."
As of publication, Jowsey has not responded to Hassarati's claims.