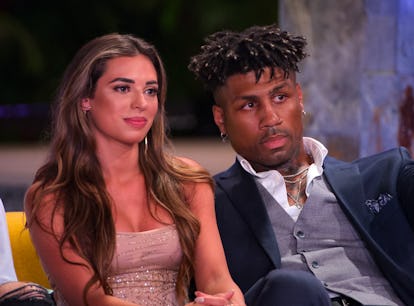 The Perfect Match's Georgia & Dom's Post-Show Drama, Explained
From winning the show to… this?
Netflix
As far as messy reality TV goes, Netflix's The Perfect Match was a goldmine. Even now, one month after the show aired and over a year after it was filmed, drama is still stirring up between cast members. For Georgia Hassarati and Dom Gabriel, who won the show but split up soon after, things are getting extra tense.
Following the finale, the duo confirmed their breakup to People, blaming distance for why things didn't work out. (Hassarati is from Australia, while Gabriel is from Canada.) Gabriel explained that they "tried our best to make it work and keep in contact," but eventually chose to call it quits.
Everything seemed fairly civil until Netflix's "Where Are They Now?" segment aired on March 2. In it, Gabriel said he felt "blindsided" by their breakup — and the fact that Hassarati was dating Harry Jowsey from Too Hot To Handle. "We were still talking. We were together, and she had to go do a certain podcast," he explained. "The podcast came out and the title of the podcast was 'Georgia and Harry Jowsey Fall in Love'."
Hassarati responded in an Instagram Story, explaining that she had "no say" in the title of the podcast. She added, per Cosmopolitan UK, "I came back to our hotel after that podcast. You conveniently left out that you were at diner with Ines [Tazi] that night and I actually go back to our hotel before you did. Didn't mention you two were in contact continuously post show either? And are dating now?"
Gabriel responded to Hassarati's claims on his IG Story, explaining that he and Tazi weren't on a date, but having dinner with other cast mates and producers. "I'm also very f*cking single," he added. Tazi backed him up as well, describing their connection as "PLATONIC, unconditional (&loyal) friendship love." (On the other hand, in April 2022, Jowsey revealed that he and Hassarati slept together on the day of recording the podcast, sooo... there's that.)
Surprising no one, Francesca Farago, Jowsey's ex and fellow Perfect Match contestant, is also somehow involved. Appearing on The Viall Files and Almost Adulting podcasts, she called out Hassarati for being "shady."
Presumably in response, Hassarati pinned some of the blame on Gabriel's friendship with Farago. "We saw each other a few weeks ago with the rest of the cast we spoke and hugged, you were lovely and said no mention of any concerns," she wrote to Gabriel in her IG Story, per Netflix Life. "We messaged after seeing each other that night in the days following and you were normal over message. But conveniently stopped replying when you started hanging out with Francesca again. Coincidence? I think not. Kris Jenner works hard but Francesca works harder."
Responding to her claims, Gabriel wrote, "We saw each other at the 'where are they now' shoot and we didn't speak or hug." He also said he didn't want to be involved in Hassarati and Farago's "weird tension."
That's not all. Per Gabriel, Hassarati only reached out to him about the prize money from winning the show. (Originally, the winners were awarded a vacation, but since they split up, it seems that Netflix was compensating them with cash instead.) She replied, posting screenshots of him agreeing that asking Netflix for more money was "worth giving it a go."
Seems like "perfect match" might have been an exaggeration.