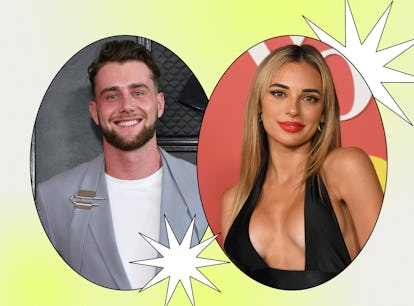 Harry Jowsey & Georgia Hassarati Are Trading Cheating Accusations
"He hates that I've moved on so effortlessly, so he has to now tell you all that I've cheated on him."
Jon Kopaloff/WireImage/Getty Images
The drama hasn't stopped for Harry Jowsey and Georgia Hassarati — despite the fact that they're not currently starring in any Netflix reality shows. The duo, who dated on-and-off for about a year starting in early summer 2022, has been making their tension very public. On July 19, Jowsey claimed Hassarati cheated on him during an interview on Call Her Daddy — but Hassarati isn't letting him get the last word. The Perfect Match winner denied her ex's claims in a three-part TikTok series, posted on July 30.
ICYMI, on Call Her Daddy, Jowsey explained his version of their breakup. "I think when they start to take a fancy for other guys while you're in a relationship... that will really, like, set you over the line," he said, when asked why they split. "It's just like, 'OK, hey, you actually have a boyfriend, you shouldn't be bouncing on that guy.'" When pressed, he confirmed he was cheated on, adding that he was "faithful" until the end. "I was being such an angel," he added. Though he didn't talk about his ex by name, it was clear he was referring to Hassarati.
However, Hassarati has a different take on their split. In the comments section on one of the podcast clips on TikTok, a fan asked her if she cheated. Her response? "Absolutely not." But she didn't leave it at that. In her own video, she denied claims that she cheated on Jowsey at Coachella in April, explaining that she attended the festival "with 15 women for work." She added, "I slept in a woman's bed the entire time who's in a relationship. I sent photos to this person to prove I was home and in bed every single night. He had my location. He wanted constant updates from me. I FaceTimed him at the festival."
However, things still ended between them post-Coachella. "He said over text he had a 'gut feeling' I cheated," she said, before questioning why there was no photographic evidence of her cheating (and inviting fans to post proof of her infidelity if they had it). Meanwhile, per Hassarati, she forgave Jowsey for "cheating on [her] many, many times" throughout their romance.
Hassarati captioned her second video, "the boy who cried 'cheater,'" pointing out that this wasn't the first time Jowsey accused an ex of being unfaithful. (He also publicly claimed his ex Julia Rose cheated.) As for why Jowsey's made these accusations, Hassarati has a theory: "He hates that I've moved on so effortlessly, so he has to now tell you all that I've cheated on him."
The Perfect Match winner also went on Instagram Stories to repost comments and messages she was receiving from supporters, which further backed up her claims that Jowsey cheated. In response to one, Hassarati wrote, "Imagine how weird you'd have to be to 1. Cheat on me and 2. Lie to everyone and make out I was cheating on you. Get. Help."
As of publication, Jowsey has not responded to Hassarati's claims.