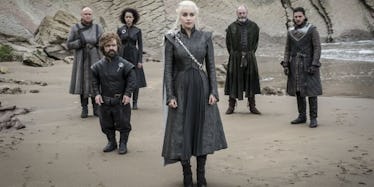 New 'Game Of Thrones' Season 7 Pics Suggest Character Reunions We've Been Waiting For
HBO
It's once again Wednesday, and in the weekly cycle of Game of Thrones information, that means it's the day the photos for Sunday's episode arrive. Ironically, HBO hasn't followed their other tradition they established in Season 6, of releasing the title and synopsis of the forthcoming episode on the Monday prior. So we are in the slightly absurd position of having spoilery photos that give us major hints of what's to come this week from the Game of Thrones Season 7, Episode 4 photos, while not actually having the title of said episode even officially confirmed.
Luckily for us, HBO Asia accidentally uploaded the title last week, so we do know it, even if we're not officially supposed to: It's "The Spoils of War." Unfortunately, we have no official synopsis to go with it. Where said synopsis usually sits, below the YouTube video for the next time trailer, it instead reads:
"All my allies are gone." Game of Thrones airs on HBO on Sundays.
One has to wonder if the refusal to release the title and synopsis officially is due to HBO's no-good very-bad Monday morning, where a large trove of the network's private data was dumped on the internet, including a script that claims to be for this Sunday's episode. Let's hope that's not the case.
Meanwhile, let's see which victor has what spoils this week. (Alternately titled: In Which Our Characters Are Looking At Things.)
Cersei and Tycho Look At A Map
Here's our victor. I assume she must be waiting on those Highgarden spoils to pay the Iron Bank off.
Jaime and Bronn Look At A Sky
Look up at the sky! It's a bird! it's a plane! It's....
Look at their faces. They don't know what a plane is anyway. But I'm pretty sure those two just saw a dragon.
Dany and Missandei Look At Each Other
Look at Missandei's face. Dany is *so* trying to find out how sex works with an Unsullied.
Dany and Missandei Look At Jon
Look at Dany's face. I think Missandei told her to go get her own man. (Pssst: He's at the bottom of the steps.)
Dany and Co Look At The Ocean
This is either the cover of Team Targ's new prog-rock album, or someone just found out her forces are trapped at Casterly Rock and Tyrion is in big trouble.
Theon Looks At Those Who Despise Him
This is the beach at Dragonstone they're pulling up to. Could this be what Team Targ was looking at above?
Theon Looks Into The Middle Distance
What's going to be more awkward? Theon explaining to Dany about Euron and Yara, or Dany gasping while Jon rearranges Theon's face for losing Winterfell to the Boltons back in Season 2?
Littlefinger Looks Down
Meanwhile, in Winterfell, everyone is looking at something we're not given a photo of. You can guess who it is though.
Littlefinger looks like he's figuring out how to make this new addition work for him.
Brienne and Pod Stare At Something
Brienne would recognize her, right? And probably be impressed she's still alive?
Sansa Looks Away
As for Sansa, do the three of them meet in the Godswood so Tree Wizard Bran can get in on the reunion action too? Or is she just realizing that of all the family, she's the only one who hasn't undergone some major brain altering stuff?
Seriously, consider the following: Jon: "Hi, I Died, But I'm Alive." Bran: "I'm An Emotionless Seer of All The Things" Arya: "I'm No One. I Kill Everyone." Sansa: "Oooooookay..."