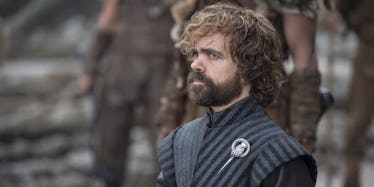 HBO Has Been Hacked, So 'Game Of Thrones' Spoilers Are Coming
HBO
It was only a matter of time before it happened: Hackers have come for HBO, and they reportedly have their hands on a Game of Thrones script. (I should say right now that spoilers from the Game of Thrones leak following the HBO hack are not out yet. So don't worry, you're safe for now.)
HBO released an official statement on the hacking incident that read,
HBO recently experienced a cyber incident, which resulted in the compromise of proprietary information. We immediately began investigating the incident and are working with law enforcement and outside cybersecurity firms. Data protection is a top priority at HBO, and we take seriously our responsibility to protect the data we hold.
According to a report from Entertainment Weekly, hackers have their hands on 1.5 terabytes of data from HBO. Upcoming episode of Ballers and Room 104 have allegedly already been released, along with "written material" containing spoilers for the fourth Game of Thrones episode, "The Spoils of War." So far, no full episode of Game of Thrones has been released, but hackers promise more content will be coming soon.
On Monday morning, HBO chairman and CEO Richard Plepler sent the following email to HBO employees:
As most of you have probably heard by now, there has been a cyber incident directed at the company which has resulted in some stolen proprietary information, including some of our programming. Any intrusion of this nature is obviously disruptive, unsettling, and disturbing for all of us. I can assure you that senior leadership and our extraordinary technology team, along with outside experts, are working round the clock to protect our collective interests. The efforts across multiple departments have been nothing short of herculean. It is a textbook example of quintessential HBO teamwork. The problem before us is unfortunately all too familiar in the world we now find ourselves a part of. As has been the case with any challenge we have ever faced, I have absolutely no doubt that we will navigate our way through this successfully.
The television and film industry have been battling against the threat of hackers for years. Earlier this year, the entire fifth season of Orange is the New Black was released online two months before the premiere date because Netflix refused to pay hackers the ransom. In May, Pirates of the Caribbean faced a hacking scare, but Disney later stated the hack was fake. And of course, in 2014 Sony was the victim of a major hack that resulted in thousands of industry insider emails made public.
HBO has long held a tight grip on Game of Thrones, taking leaks very seriously. This season, press screeners were not granted to anyone in an attempt to make sure no spoilers got out.
But at this point, the best advice I have for you if you truly love Game of Thrones is to not go looking for those spoilers. He who plays with fire will get burned, or you know, whatever.