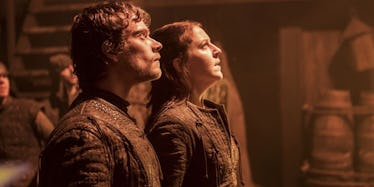 'Game Of Thrones' Season 7 Episode 4 Title Was Leaked & Here's What It Means
HBO
Game of Thrones is the biggest show HBO has, with each episode airing worldwide simultaneously across hundreds of sister stations and affiliates in dozens of countries. As such, coordination across all of these stations involves hundreds upon hundreds of people, all of whom receive confidential information that they have to keep under wraps while making sure what they have goes live at exactly the same time across the planet. As we know, sometimes people make mistakes. Like this week, when the Game Of Thrones Season 7 Episode 4 title was revealed in an accidental spoiler.
HBO Asia uploaded images this week that will eventually become links to episode streams over the next few weeks. And while episodes 5-7 merely say "Game of Thrones Season 7 Episode 05", etc, apparently no one told the coder that the title for Episode 4 wasn't actually officially out yet.
That title reads:
GAME OF THRONES S7 04: THE SPOILS OF WAR
It is paired with a featured image of Tyrion, though that may just be a placeholder since it's from the first episode. (All the later episodes have photos from the premiere as their featured images, incidentally.)
So, what does it mean?
Last week, our episode ended with a wild sea struggle, as Euron showed he can not only talk the talk but walk the walk and murder the murder and battle the battle and so forth. This week's episode, we have another clash that we've seen hinted in trailers, including a huge Lannister host on the march, a dragon flying through the air in what looks to be "When Targaryen Met Lannister" engagement.
And with Tyrion eager to hit Casterly Rock, that's where we assume this battle is heading, yes?
If anything, this title suggests an episode of the aftermath. Cersei may have drawn first blood, but how does she fare after the Lannisters find themselves facing the Targaryens on land? One of these parties have just gotten the spoils of battle, but who? And what retaliation do they face?
Meanwhile, Sansa will be home up north, struggling to rule. With both Arya and Bran on their way home, will she find herself in a civil war for who should run the place? Or will the Starks all benefit from the spoils of her victorious takeover in Jon's absence?