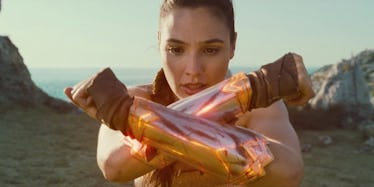 The 'Wonder Woman' Sequel Has A Release Date And It's Sooner Than You Think
Warner Bros.
If you've been watching the Justice League trailer wishing it were just another Wonder Woman movie, don't worry. Another Wonder Woman movie is coming, and it's coming really soon. The Wonder Woman sequel release date has officially been announced: Dec. 13, 2019.
The sequel was officially confirmed last week, and Warner Bros. announced the Wonder Woman 2 release date on Tuesday evening. According to The Hollywood Reporter, Wonder Woman director Patty Jenkins is in talks to direct the sequel but has not officially announced her return at this point.
Guys! December 2019? That's so soon! That's only a year and a half from now! That means we'll presumably have a Wonder Woman 2 teaser trailer by spring!
And don't forget that we'll be getting more of Gal Gadot's Wonder Woman in Justice League, which hits theaters November 2017. Based on the trailer, you'll probably be able to pretend this is just another Wonder Woman movie if you just hold your hand up to block out Ben Affleck's face during the Batman scenes.
Meanwhile, the first Wonder Woman film continues to absolutely kill it at the box office. The movie has grossed over $389 million in the domestic box office since its release on June 2, making it the number two highest grossing film of 2017. (Number one is still Beauty and the Beast, which sits at about $500 million in the domestic box office.)
Wonder Woman and Patty Jenkins have broken so many records at this point that it's hard to keep up, but I'll try to list a few here. Earlier this month the film earned the title of highest domestic earning for a DC Expanded Universe movie. It's also the highest grossing live-action film directed by a woman, the highest-grossing opening weekend for a woman director ever, and the highest-grossing woman-led superhero film ever.
So uh, yeah, I'd say Warner Bros. has a pretty safe bet in making this sequel. Can it be December 2019 already?