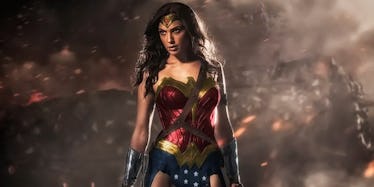 'Wonder Woman' Sequel Is Confirmed, Everything Is Right With The World
Warner Bros.
Praise Zeus! Warner Bros. announced at Comic-Con International on July 22 that the studio had officially greenlit a sequel to Wonder Woman. Finally!
The announcement came as star Gal Gadot was at Comic-Con to promote Justice League, Diana of Themyscira's next outing, Entertainment Weekly reported. The ensemble film for the DC Extended Universe will be released in November, but fans have been clamoring for a stand-alone sequel as well. AND IT'S HAPPENING!
With the overwhelming success of Wonder Woman, it was really only a matter of time before a sequel was announced.
The movie broke multiple records (seriously, just, like, so many records), to be the highest-grossing live-action film directed by a woman, the highest-grossing woman-led superhero film, and the highest domestic-earner for the entire DCEU (beating out Batman and Superman to boot).
With that track record, people were already talking about a sequel like it was definitely happening.
Director Patty Jenkins said that she was interested in taking the helm on a second film, and has thrown out a couple of ideas for where she wants to take the story. She said in an interview with Entertainment Weekly that she wants to bring Diana to America, though there are also rumors that the story might take place in the Soviet Union in the 1980s.
Gadot's co-star Chris Pine, who plays love interest Steve Trevor, is also rumored to return (despite that pesky case of being blown up in the first film).
Fans are already losing it.
This mom has her priorities straight.
Of course, it's too early for a release date to be announced.
However, Justice League is already scheduled for November 17, 2017, so we'll be seeing Diana again soon no matter what. If you really can't hold out, Warner Bros. has an extra treat for you: the Justice League teaser trailer was released the same day that they announced the sequel. It's like they knew what we needed!
Pretty rad. Still not as cool as Wonder Woman though.