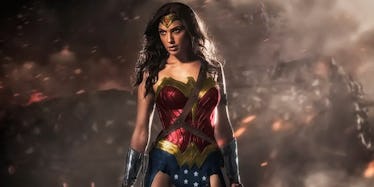 'Wonder Woman' Keeps Breaking Records, Wins The DC Universe And Our Hearts
Warner Bros.
All hail Diana of Themyscira, because she cannot be stopped, and let's be real you wouldn't want to anyway.
Wonder Woman just broke yet another — that is, another another — record, beating out DC universe heavy-hitters Batman AND Superman to take the crown for biggest domestic earnings in the DC Expanded Universe, Entertainment Weekly reported on Saturday.
Everybody's favorite warrior princess has officially brought home a total of $334.9 million from domestic audiences.
Previous record-holder Batman v Superman has a top earnings of $330.36 million.
What's that, boys? I can't hear you over the sound of Wonder Woman being AWESOME.
Wonder Woman still has a ways to go internationally, where it lags a little more than $200 million behind Batman v Superman with a still-respectable $670.68 million. And there are four Marvel Cinematic Universe movies that have crossed the $1 billion threshold internationally, including both Avengers movies, according to Box Office Mojo. But hey, Wonder Woman is still in theaters and going strong — it's currently sitting very comfortably at number three at the box office, as of June 30. There's plenty of time.
If there's one thing we know about Diana, it's that she doesn't give up easily.
This is at least the fifth record that the Patty Jenkins-helmed movie has broken, with specific busted (glass) ceilings including highest-grossing live-action film directed by a woman, and highest-grossing woman-led superhero film, ever.
More than anything, all the records give me hope that the rumors of sequel will come true. By now the question isn't whether Wonder Woman will be a success, it's just how successful is it going to be, and how inadequate is it going to make everyone else look by comparison?
With Wonder Woman next up in Justice League, we'll definitely be seeing more Diana.
In the meantime, for instructions on what to expect of the movie's handling of records, see the below gif.
FLAWLESS.