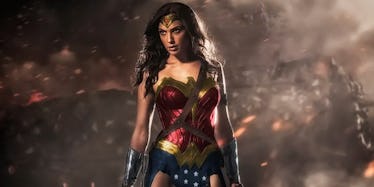 Director Patty Jenkins Reveals Whether Or Not There Will Be A 'Wonder Woman' Sequel
Warner Bros.
Alright, so if you have been on the internet at all within the past two days, you know Wonder Woman is absolutely dominating worldwide box offices. Like, DESTROYING them.
The latest film from the DC Extended Universe has brought in over 220 million dollars so far, and currently boasts a 93 percent rating on Rotten Tomatoes. Pretty friggin' amazing, especially considering it took a hella long to get a superhero movie with a female lead off the ground and running.
Naturally, because we as a people have very little chill, we are already thirsty for a sequel to the female-led smash hit.
Lucky for us, Patty Jenkins is down for a sequel, too. In an interview with Entertainment Weekly, the director flat out said,
...I want to make Wonder Woman 2. It's a beautiful story to tell, an important time to tell it and with people that I love.
Adding to the hype, Jenkins said she sees Wonder Woman coming to America in a follow-up to the original film.
She revealed,
The story will take place in the U.S., which I think is right.
Wonder Woman coming to America?! Woah. Think of all the possibilities for Diana's golden lasso in that sequel.
When will it take place? Who or what will Diana be fighting? What kinds of badassery will Gal Gadot bring to the big screen this time around?! It's all too much for my fragile, superheroine loving heart to handle.
Of course, it's still way too early to be talking about a continuation of Wonder Woman, so there are no *official* plans in place just yet. If the success of the original is any indication of what the sequel could do at the box office, though, I'm sure Warner Bros. will be jumping on it sooner rather than later.
Until then, we'll just be here waiting (im)patiently, fantasizing about Diana's next adventure, and rewatching Wonder Woman over and over until our eyes bleed.