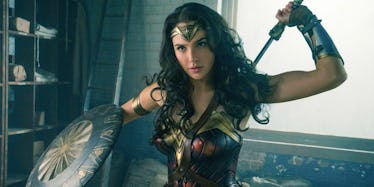 'Wonder Woman' Breaks Another Box Office Record And We're Totally Here For It
Atlas Entertainment
Unsurprisingly, Wonder Woman is killing it at the box office and we're all loving Diana of Themyscira's success.
Not only is this the first-ever female-directed superhero film, it marks the largest opening weekend ever for a female director.
After waiting 76 years for Wonder Woman to hit the big screen — to bring a female hero to life — this is some serious girl power that we can all get behind.
The film also reached another box office milestone this week that speaks to our action-film-loving hearts.
Director Patty Jenkins' flick reached the $600 million mark, according to Entertainment Weekly, and is on track to pass Phyllida Lloyd's Mamma Mia! —  which reached $609.8 million — to become the highest-grossing live-action film directed by a woman.
That's certainly cause for celebration, and the best way to commemorate this moment is probably to see the film again (not that you needed any convincing for a second screening).
To add to the excitement, if this streak continues, Wonder Woman will also surpass Jennifer Yuh Nelson's Kung Fu Panda 2, which earned $665.7 million worldwide, and therefore become the highest-grossing film solely directed by a woman.
Wonder Woman's DC colleague Superman earned a domestic total of $291 million with Man of Steel, which means Jenkins' film earned Man of Steel's entire earnings within a month.
Though these are tremendous accomplishments, there are still areas for improvement within Hollywood. Reportedly, Gal Gadot — Wonder Woman herself — only made $300,000 for her part in the film, according to a report from The Daily Dot, which was a surprisingly low salary for the role.
It's kind of shocking that her male superhero counterparts have made much more — such as Robert Downey Jr. in Iron Man, who made a whopping $50 million for the role. (No that's not a typo on my part.) Scarlett Johansson is the only lady to rake in the millions, earning $20 million for her part in Avengers: Age of Ultron. 
Keep slaying, Wonder Woman. If there's anyone who can set the tone for equal earnings, fight back when sexist comments arise, and continue to shatter box office records and glass ceilings, it's you.