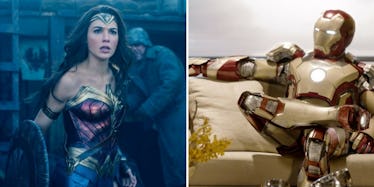 10 Superheroes Who Got Paid More Than 'Wonder Woman'
DC, Marvel
Despite the huge critical and box office success of her movie, Wonder Woman star Gal Gadot reportedly only made $300,ooo from it — less than one percent of its still-growing $600 million worldwide box office success.
The reason for the short shrift is that, according to Variety, Gadot signed a three-movie contract with DC back in 2014, locking her in at $300,000 per film. Now don't get me wrong — a $300,000 paycheck is obviously nothing to sneeze at. But if you compare it to what the other major superhero actors are making, it's pennies.
Take a look for yourself:
1. Iron Man (Robert Downey Jr.) — $50 million
Would you expect any less of Tony Stark? Not only does Robert Downey Jr. play a multi-millionaire in the Marvel movies, they actually made him one in real life as well. Robert confirmed to The Hollywood Reporter that he took home a whopping $50 million to appear in The Avengers.
Even more mind-boggling, according to the Telegraph, he may start getting paid upwards of $200 million for future Avengers movies.
2. Black Widow (Scarlett Johansson) — $20 million
The lone actress atop this list is Scarlett Johansson, who was reportedly the second highest-paid star in Avengers: Age of Ultron — after RDJ, naturally. CinemaBlend reports that ScarJo made a cool $20 million for the film. And that number could rise even more now that a standalone Black Widow movie is finally in talks.
3. Deadshot (Will Smith) — $20 million
He may be new to the DC Extended Universe, but Will Smith is certainly no stranger to Hollywood. DC was down to throw millions at the A-list actor to get him to sign on to helm Suicide Squad as Deadshot, and Smith reportedly made $20 million for the role, according to EarnTheNecklace.
4. Spider-Man (Tobey Maguire) — $17.5 million
Before the major superhero craze we're experiencing now, Tobey Maguire was one of the first heroes to make bank. According to SlashFilm, Tobey made $4 million for his first Spider-Man movie, and then that was bumped up to $17.5 million for the second, and then $15 million for the third. Apparently, he was even offered $20 million for a fourth movie that was never made.
5. Superman (Henry Cavill) — $14 million
DC was willing to break out the big bucks for the first movie in its current cinematic universe, and shelled out a reported $14 million to Henry Cavill to play Superman in Man of Steel, according to Forbes.
6. The Joker (Jared Leto) — $7 million
Even though he's probably in less than half of the movie, Jared Leto got an impressive pay day to take on one of the most iconic super villain roles ever. EarnTheNecklace reported that Leto was paid $7 million to reimagine The Joker in Suicide Squad.
7. Captain America (Chis Evans) — $6.9 million
Chris Evans actually knows where Gal Gadot is coming from. He also only made $300,000 in his first Captain America movie due to a similar contract from Marvel that Gadot got from DC, but he was eventually able to negotiate a better salary, walking away with a sweet $6.9 million paycheck from Avengers: Age of Ultron, according to CinemaBlend.
8. Hawkeye (Jeremy Renner) — $6.1 million
You might start noticing a pattern with these Marvel superheroes: they start off making smaller salaries, but then really rake in the dough in later movies. Jeremy Renner only pulled in an estimated $500,000 for his first appearance as Hawkeye in The Avengers, according to TheRichest, but grew that to over $6 million in the movie's sequel.
9. Thor (Chris Hemsworth) — $5.4 million
Chris Hemsworth was actually making less than all the leading Marvel actors (and Gal Gadot, too, for that matter) in his first Thor movie. TheRichest reported that he got a comparatively paltry sum of $200,000 for his first Marvel flick, but took home over $5 million for Age of Ultron.
10. The Hulk (Mark Ruffalo) — $2.8 million
Even the lowest-earning Avenger is still making off with some major green. Mark Ruffalo took home nearly $3 million to play The Hulk in Age of Ultron, according to CinemaBlend.
Clearly, Wonder Woman is far from earning what she deserves. But that said, Gal Gadot still took home more than some other recent superhero stars.
According to TheRichest, many Guardians of the Galaxy stars made less than $200,000 from the Marvel hit, including Zoe Saldana, Karen Gillam, and Lee Pace. Of course, since Zoe and Karen also starred in the recent sequel, they likely made much more the second time around.
And there's definitely hope for her to grow her salary moving forward. Once her $300,000-per-film contract is up after Justice League, Gadot absolutely has grounds to demand much more money from DC for a Wonder Woman sequel or further appearances in DCEU films.