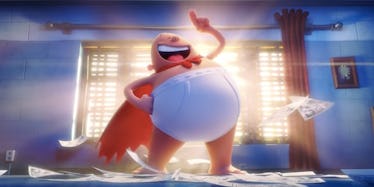 First Trailer For 'Captain Underpants' Movie Will Take You Back To 4th Grade
Youtube
Was there ever a better day in grade school than the Scholastic Book Fair, or something more thrilling than looking through those book order catalogues?
I can vividly remember the excitement I felt looking around those stands of kid-friendly books, and I just felt that childlike joy again today when I found out the trailer for the "Captain Underpants" movie is out!
In case you never had a full childhood, "Captain Underpants" was the series everyone was reading in grade school.
If your fourth-grade class clown who used to make everyone crack up by screaming "poop!" during class replaced Oprah as the new head of her book club, every new selection would be a "Captain Underpants" book, and your 10-year-old self would have loved it!
And now you get a chance to let your inner fourth grader laugh again! The first trailer for the upcoming movie adaptation "Captain Underpants: The First Epic Movie" is finally here, and it's packed with all the goofiness and fun of the original book series.
Check out the trailer below.
In case you forgot the premise of "Captain Underpants" (and the trailer didn't already explain it enough), it's about two fourth-grade boys who hypnotize their cruel principal into becoming their fearless and kind comic book creation Captain Underpants.
And you probably caught all those famous voices in that trailer as well! The voice cast is pretty much a comedy-lover's dream, with Ed Helms as the elastic-banded superhero, and Kevin Hart and Thomas Middleditch as the troublemaking protagonists George and Harold, respectively.
There's also Nick Kroll, playing the villainous Professor Poopypants.
Not heard from in this first trailer is Melvin, George and Harold's fourth grade nemesis, who will be voiced by Jordan Peele, and the lunch lady Edith, whom Kristen Schaal will voice.
Thankfully, we won't have to wait that long for the movie to come out! "Captain Underpants: The First Epic Movie" is hitting theaters in just two and a half months on June 2.