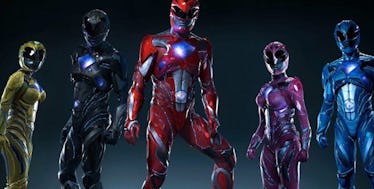 'Power Rangers' Will Be The First Superhero Movie To Feature Gay Lead Character
Lionsgate
Though there's still a definite lack of LGBT representation in mainstream media, the upcoming "Power Rangers" film is keeping up with the changing times.
When the live-action reboot of the popular '90s action series hits theaters this Friday, March 24, viewers will see the first-ever lead queer character featured in a superhero film in the form of Yellow Ranger, Trini (played by Becky G).
Not only will Trini be questioning her life after being tasked with saving the world from alien forces, but she'll also be seen questioning her sexuality and her budding interest in women.
According to The Hollywood Reporter, one scene in the film will feature another character automatically assuming that Trini's going through some regular, ol' boyfriend issues, when the problems she's actually dealing are girlfriend-related.
Though the line exchange is said to be brief, director Dean Israelite has referred to it as a "pivotal" point in the film and what seems to be a big moment for LGBT characters on the big screen.
Israelite said to The Hollywood Reporter,
For Trini, really she's questioning a lot about who she is. She hasn't fully figured it out yet. I think what's great about that scene and what that scene propels for the rest of the movie is, 'That's OK.' The movie is saying, 'That's OK,' and all of the kids have to own who they are and find their tribe.
The original "Power Rangers" series saw the Yellow Ranger (played by Thuy Trang) as a straight female, so it's great to see Israelite and the updated film unafraid to promote equality.
His direction will hopefully continue to open the world up to different types of sexual orientations by taking a program so popular to young adults and seamlessly inserting a queer character — one going through the universal teenage struggle of finding who you truly are in this world.
"Power Rangers has always represented diversity and they're always been ahead of the curve on a lot of things," Becky G told Screen Rant.
She continued, "People should accept themselves for who they really are and be proud of that and take ownership of that first and learn that self love to really be happy. I think that's why Trini never found her purpose just yet, until she met [the Power Rangers] and that's why she never really learned to love herself, because she didn't accept who she really is just yet."
While there are still plenty of other aspects of the movie that I'm excited to see — like Elizabeth Banks as iconic villain Rita Repulsa and Dacre Montgomery's drool-worthy six-pack — I can't help but feel grateful to finally identify with a character I grew up watching for so many years.
Move over red — yellow is my new favorite color.
Citations: 'Power Rangers' Breaks Ground With First Queer Big-Screen Superhero (The Hollywood Reporter), Power Rangers Movie: LGBT Character Confirmed (Screen Rant)