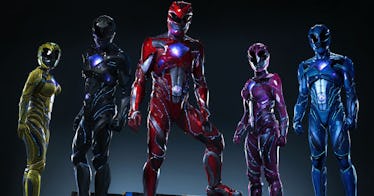 The First Trailer For The 'Power Rangers' Movie Is Finally Here, And It's Epic
Lionsgate
You're going to need five minutes to revert back to adulthood after watching this teaser trailer for the new "Power Rangers" movie.
That's right — the film is actually happening and will be here in 2017.
*Squeals like a child*
Until then, Lionsgate is seriously whetting our appetite by showcasing these cheeky scenes in a two-minute video.
It's already had more than 7 million views on YouTube.
So what can we expect from the new movie?
A visit back to Angel Grove, OBVIOUSLY.
Just ordinary, confused teens.
WITH SUPER POWERS.
And there's another surprise as well because we ALMOST see how the suits appear to work.
And obviously Rita Repulsa showed up, portrayed by Elizabeth Banks.
The movie follows the lives of five teenagers from Angel Grove who stumble across super human powers and are then forced to use their abilities to save the world from total annihilation.
The movie's coming out in March and we can't wait to dig out our old figurines and take them to the theater like the little kids we wish we could be again.
The description posted underneath the video on YouTube reads,
SABAN'S POWER RANGERS follows five ordinary teens who must become something extraordinary when they learn that their small town of Angel Grove — and the world — is on the verge of being obliterated by an alien threat. Chosen by destiny, our heroes quickly discover they are the only ones who can save the planet. But to do so, they will have to overcome their real-life issues and before it's too late, band together as the Power Rangers.
Let's take a journey back through time because all you younger noobs probably don't remember a time when "Mighty Morphin Power Rangers" was on TV and all about tight, colorful spandex and big karate moves.
Without further ado, here's the new teaser trailer: