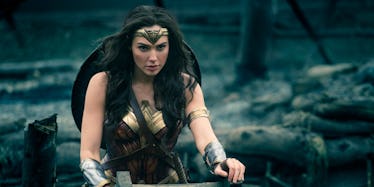 Here's Why You Didn't Hear The Original 'Wonder Woman' Theme Song In The Movie
DC
Gal Gadot's portrayal of the iconic DC Comics hero Wonder Woman is the latest in a long line of interpretations, with her's being one of the darkest and grittiest of the bunch.
Though fans didn't expect to see the bright, campy version of Wonder Woman Lynda Carter made famous in the '70s, they might have expected a nod to the iconic theme song.
But no, Patty Jenkins' new flick went an entirely different direction with its theme, opting for a primal, thumping orchestra track, which you can listen to below.
Obviously, the choice to ditch the '70s theme for this new, darker theme just made sense for the type of movie Jenkins was making.
I mean, can you seriously imagine Gal Gadot's sleek and powerful Wonder Woman charging into bullets and grenades on a war-torn battlefield, and then this song playing?
Yeah.... no.
But it turns out there was even more to the reasoning as to why the 2017 Wonder Woman couldn't include even a wink to the iconic, original theme song: lawyers.
Patty Jenkins told Yahoo! Movies she really just couldn't figure out a way to make the theme song work in the movie, and part of that was that her production also didn't have to rights to the song.
It would be so impossible to use the theme song. I don't know how I would pull that off, even legally.
In the end, Wonder Woman didn't need to rely on any of its potential nostalgia factors to become a massive smash in its own right — original theme song be damned.
The movie is getting nearly unanimous rave reviews, being hailed as the saving grace of the otherwise criticized DC Extended Universe, and continues to smash box office records, raking in over $200 million in the U.S. already.
Although Lynda Carter's Wonder Woman was just as strong and inspiring as Gal Gadot's, a modern Wonder Woman just needs her own modern theme.