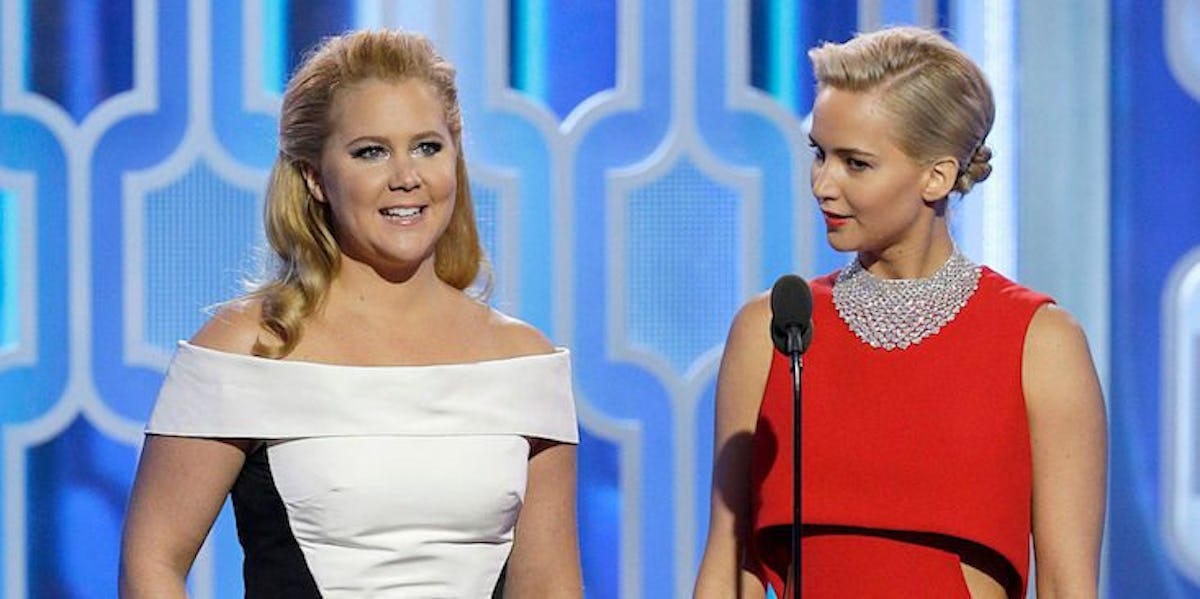 Jennifer Lawrence Gives A Much Needed Update On Her Movie With Amy Schumer
Paul Drinkwater/NBCUniversal
If you're worried about a lack of #relatable #friendshipgoals in Hollywood, fear not: That Jennifer Lawrence and Amy Schumer movie is apparently still happening. We haven't heard much news on the mysterious Lawrence/Schumer film collaboration, since it was announced two years ago the pair was working on a screenplay. The internet pretty much lost it with thoughts of all the potential relatable, slightly problematic white girl content to come.
But as both Schumer and Lawrence continue to take on more projects — the trailer for Lawrence's horror film mother! dropped Monday and Schumer just announced her Broadway debut — fans are starting to wonder if we'll ever get collab film. Well, according to a new Vogue interview with Lawrence, the film is happening. Lawrence described the plot as "dysfunctional twins. But it's sad. Then funny," and told the magazine she and Schumer are currently meeting with directors. Lawrence said of Schumer, "She's the funniest person I've ever met. She's also an amazing dramatic actress, which I want to bring out."
So funny with a touch of drama, eh? That sounds pretty much what I would expect from a Lawrence/Schumer mind meld. Vogue also got an email quote from Schumer, who said of Lawrence,
Jen is funny like a comic. She understands the rhythm of a joke and how to play both the straight man and the idiot. She has one of the darkest senses of humor I've ever encountered and it's delightful. My only problem with her is that she's fat.
Neither women commented on a timeline or title for the film, so I'd say we're still a ways off from these #BFFgoals on the big screen. In the meantime you can watch Schumer in the Broadway comedy, Meteor Shower, and you catch Lawrence in her creepy new film directed by her creepy older boyrfriend, Darren Aronofsky. I'm sure both will be an enjoyable experience.