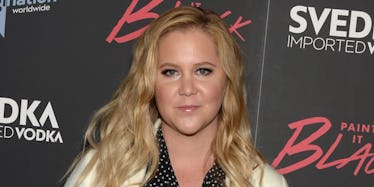 Amy Schumer Is Making Her Broadway Debut And The Play Sounds Hilarious
Andrew Toth/Getty Images
All time funny woman and badass feminist Amy Schumer is at it again, and this time she's hitting the Broadway stage! You heard me right, she's going to be on Broadway. Ahhhh! It's just too exciting. The stand-up comedian and actress is set to perform this fall in a new play by fellow comedian Steve Martin. Let me get this straight... Amy Schumer on Broadway? This is literally the best news ever. Can I get tickets now, pretty please?
The Trainwreck actress will star in Meteor Shower, a comedy about two couples who get together for a night of wild fun, stargazing, and flirting in Ojai, California. The play will also be set in 1993 in a backyard. Sounds hilarious. Schumer will play Corky, an eccentric wife who has a specific, unique interest in cannibalism. Yes, cannibalism. Sources say, Steve Martin personally invited Schumer to join the cast. So, that's really freakin' awesome.
The play will also star Broadway actors Laura Benanti, Alan Tudyk, and Keegan-Michael Key from the sketch comedy show, Key and Peele. It's too great of a collaboration!
Steve Martin, the creator of Meteor Shower, told San Diego Tribune his inspiration for the play. He said,
I liked the idea of it. I liked the idea of a couple going to watch a meteor shower. And then the next thing is, well, who is everybody? And when I started to think about who everybody is (in the play), that's when it got worthy. Because I had a psychological interpretation of who everybody was, and that gave me something to write from.
Add starring in a hilarious Broadway play to the list of accomplishments for Schumer because this one is going to be good.
The play is set to open November 29 at the Booth Theatre. Break a leg, Schumer!