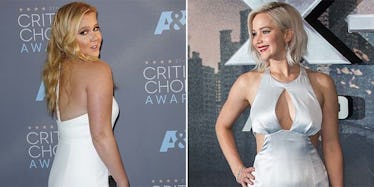 Uh, What Ever Happened To Jennifer Lawrence And Amy Schumer's Movie?
REX/Shutterstock
Back in January, it seemed as though all Jennifer Lawrence and Amy Schumer could talk about was the movie they were writing together.
Last October, on the red carpet at the BAFTA Britannia Awards, Access Hollywood correspondent Scott Evans asked Amy for a little info on the progress of the rumored film.
She told him,
It's going great! We're sisters and, yeah, we… just finished a new draft and we're just excited about it. It's funny, it's dirty, it's real. It's like us!
When Jen made her rounds promoting "The Hunger Games: Mockingjay" back in November, she told Entertainment Tonight all about Amy's type-A flight attendant character.
The Oscar winner shared,
Amy, in this movie… she has it very together. It's her lifelong dream to be a flight attendant. She works at the airport. And I'm a mess.
Jen also claimed "there's really not really boys in it," suggesting the film would be led by a cast of dynamic female characters.
The movie sounded like a Tumblr shipper's deathbed wish: Two hilarious, talented Hollywood superstars with an everybody's BFF quality coming together in legitimate best-friendship to deliver fans a side-splitting, empowering film we all imagined was just as fun to write as it will be to watch.
By January, the pair had finished an official draft, and J Law told BBC 6 Music the final product would be worth the wait.
She gushed,
It was hilarious, because when you're writing a comedy it's not good enough unless you're laughing out loud… So I'm laughing at my pages and I'm laughing at her pages and thinking that the whole process is hilarious. I'm thinking we've got a pretty funny, good movie.
Sadly, the momentum the pair built up teasing fans with small details from the writing process has majorly died down since Amy mentioned it during a Vanity Fair video online back in April.
Now, four months later, Amy is attending signings for her newly released book, "Girl With the Lower Back Tattoo," before heading to Dublin, Ireland on August 26 to kick off her 54-city world tour.
Jennifer recently shot a yet-titled Darren Aronofsky film and "Passengers" with co-star Chris Pratt. She also has three upcoming projects, "It's What I Do," "Bad Blood" and "Red Sparrow," all of which appear to feature J Law as the protagonist.
Drafting and producing a feature-length film is no small task, even with a team of writers. There's still a chance these two women, who each have massive careers independent of one another, are currently grinding away at making this buddy film a reality.
Those of us who know the sweet, giddy satisfaction of pulling asshole pranks with our best friends, though, may share the same nagging fear: Was it all just a bit?
Sorry, but as much as I'd love to see Amy play an airport employee with flight attendant dreams, that's also the kind of chestnut that strikes the perfect balance between the plot of a believable future film and the job your improv teammate endows you with after an audience member offers "frequent flier" as a suggestion.
If Jennifer Lawrence pulled that detail out of her ass during an interview merely for her and Amy's own personal entertainment, I will only end up wanting to see this fever dream of a movie so much more.
In the event this is all, in fact, a bit and no film has been written, there's still time. Based on the scraps of information these women have given the press, I'm already more excited to see this movie than I was to leave "Sausage Party."
So far this summer, the cinema has really taken a hot dump on its patrons. Amy and Jen are the saviors we want, so here's hoping they're the saviors we get.