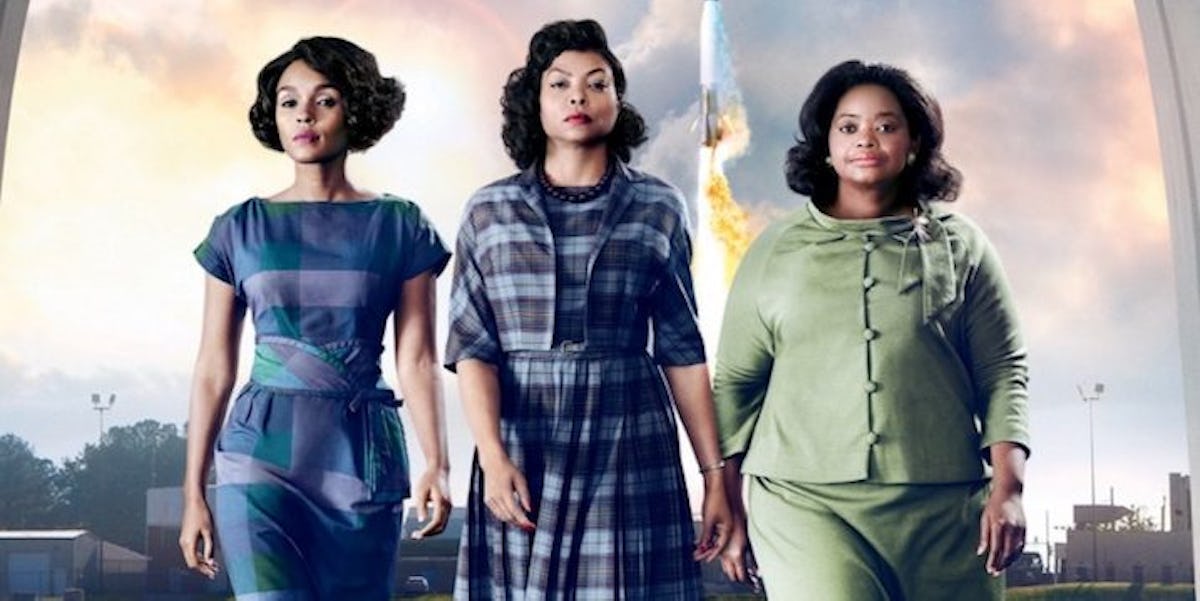 Little Girls Adorably Recreate 'Hidden Figures' Poster For Black History Month
20th Century Fox
YESSSSSSSSSS! MORE OF THIS!
In honor of Black History Month, a group of Milwaukee College Prep students have decided to honor the cast of "Hidden Figures" by recreating a poster from the movie.
Students Ambrielle Baker-Rogers, Miah Bell-Olson and Morgan Coleman posed for the shot by dressing up as the movie's inspirational protagonists and civil rights heroes Mary Jackson, Katherine Goble Johnson and Dorothy Vaughan.
The project was organized by their teacher, Terrance Sims.
Ambrielle's mother, Jerrica Rogers, says the project's goal was "to create a series of posters that positively affirm the excellence of his students, as well as shine a light on the beauty of African-American culture."
After the photos of the girls began to go viral, it didn't take long for the actual stars in the movie to give the girls a shoutout on social media.
Taraji P. Henson shared the picture on her Instagram account and tagged the photo,
OH MY GOODNESS IN HEAVEN I do what I do #SoTheBabiesCanDream #GodBlessTheBabies #Hope #TheFuture #BeInspired #Hiddenfigures #HiddenNoMore
Janelle Monáe, who plays Mary Jackson in the film, also made sure to give the girls a shoutout on her own Twitter account.
She retweeted the tweet below and captioned it,
Omg
"Hidden Figures" tells the story of three African-American NASA employees dealing with racism in the space program in the '60s.
The film stars Taraji P. Henson who plays Johnson, a mathematician tasked with calculating trajectories for Project Mercury and other space missions.
The movie also features Kevin Costner, Kirsten Dunst, Jim Parsons, Glen Powell and Mahershala Ali.
The movie is viewed as a heavy Oscar favorite going into awards season and it already secured a Best Picture nomination for this year's event.
Unfortunately, Taraji P. Henson was not nominated for her work in the film. Neither was Janelle Monáe.
Octavia Spencer, however, did get nominated for Best Supporting Actress.
Be sure to watch The Oscars on February 26, 2017.
Citations: These Little Girls Recreating The Hidden Figures Theatrical Poster Is Too Precious (Perez Hilton)